This tutorial will show you how to change images using Adobe Photoshop software.
Photoshop. How to change images
1. First of all, make sure 'show slices' option is enabled. To do that, navigate to 'View – > Show' and mark the Slices option.
2. Select the layer that contains an image you'd like to change (Use 'move tool' (V) to select a layer).
3. Hold the Ctrl key, hover over the needed image with your mouse cursor, left click (That will lead you to the group of layers).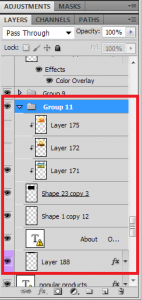 4. Select any image you'd like to change (Try to hide/unhide this layer by clicking "eye" icon to make sure your selection is correct).
5. Now you should open your new image. To do that, navigate to File – > Open menu.
6. Drag'n'drop your image using the 'Move' (V) tool.
7. Use the same tool to adjust the image position to make it fit the template design.
8. After this you should "export" your image with Save For Web & Devices option.
Feel free to check the detailed video tutorial below:
hotoshop. How to change images