It's hard to overstate the importance of new technology in shaping future developments in marketing. Each new major tech trend reaches customers faster than the last, meaning the overall pace of change is continually accelerating. A useful resource for considering how new tech trends will affect your marketing in the year ahead is Gartner's Hype Cycles. These are produced annually and show where given technologies sit on the cycle between hype, disillusionment and maturity.
The chart below shows this years hype cycle chart of emerging technologies for you to review against your plans.
Judging by the hype cycle two of the technologies furthest along the curve of technology development are Virtual Reality and Augmented reality, so we shall focus on these in our analysis of tech trends. We will also discuss Chabots in this trend piece, as it is a hot new marketing trend, which has emerged in the past 6 month and looks to be a significant trend in 2017.
Virtual Reality
There are now several commercially available VR products on the market, which range considerably in price and capability. The Oculus Rift, HTC Vive and Sony's PlayStation VR all offer immersive virtual reality experiences but come with hefty price tags. Widespread consumer adoption is thus still some years away. Google cardboard on the other hand is easy to set up and requires only a smartphone.
The New York Times has successfully begun to deploy VR experiences in selected articles, letting readers quite literally look around the places making the headlines.
The New York Times Virtual Reality app makes use of Google Cardboard to deliver the experience via smartphones, which massively expands that potential user base at the cost of compromising on the quality of the experience. For now this is a trade off brands have to make, but with VR tech set to increase significantly in capability and adoption in the coming years, brands may soon not have to chose.
Augmented Reality
Augmented reality differs from virtual reality because rather than creating a whole virtual environment, it overlays some virtual elements onto the real world. For example, imagine looking at a wall through an augmented reality device. The wall appears exactly how it does in real life, except it has an image projected onto it that can only be seen by the person using the augmented reality device.
Gartner considered Augmented Reality to be in the 'Trough of Disillusionment' as recently as June 2016. Since then an augmented reality app has shot to the top of the app store and became the most rapidly adopted mobile app of all time. We are referring, of course, to Pokémon Go.
Pokémon Go's astounding success led to an enormous degree of hype surrounding the application. Marketers should be wary of hopping on bandwagons and investing in something that may well turn out to be a flash in the pan.
Pokémon Go does however prove one critical thing – that mobile phones are sufficient for delivering augmented reality experiences. While AR won't be relevant for many brands, for certain businesses it may be worth considering how AR could be integrated with a company's mobile app. For example, it could be used to let customers use their phone to overlay product information in store, uncover special offers or see products that are not stocked in that store but are in the companies catalogue.
Great examples of AR being used by retailers include American Apparel's color changing app & Ikea's AR Catalogue, which lets users see what the furniture would look like when it's in their actual house.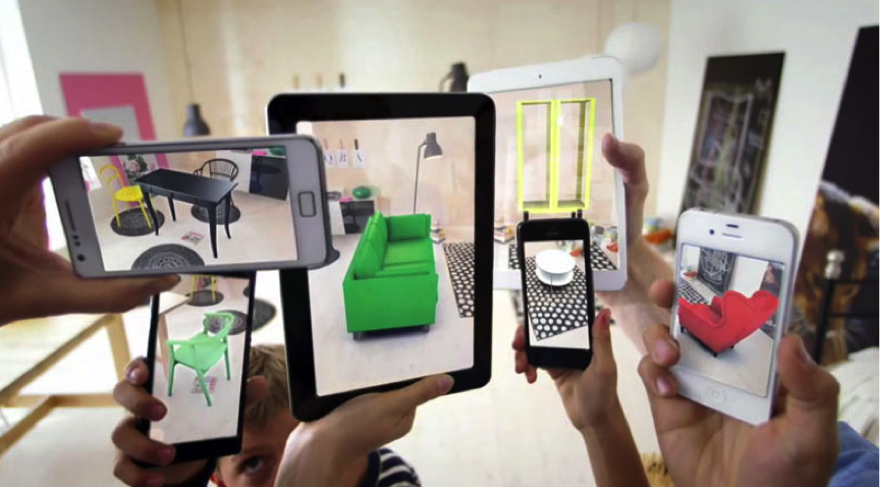 'Virtual dressing rooms' utilizing augmented reality technology will also become increasingly popular for fashion retailers. Timberland partnered with augmented reality specialists 'lemon&orange' to create a virtual dressing room that lets users try on clothes without actually wearing them. Using the 80 inch screen in stores they could try on items from the latest collection without having to change in private. At the end of each session the user's new look was sent via email to them, so they could decide later if they wanted to purchase. A tablet version was also created which mapped a persons face and augmented it onto a matching model, who's clothes could then be selected by the user, thus allowing them to virtually try on cloths from home. Looks developed by the app could also be shared on social media, further increasing the reach of the technology.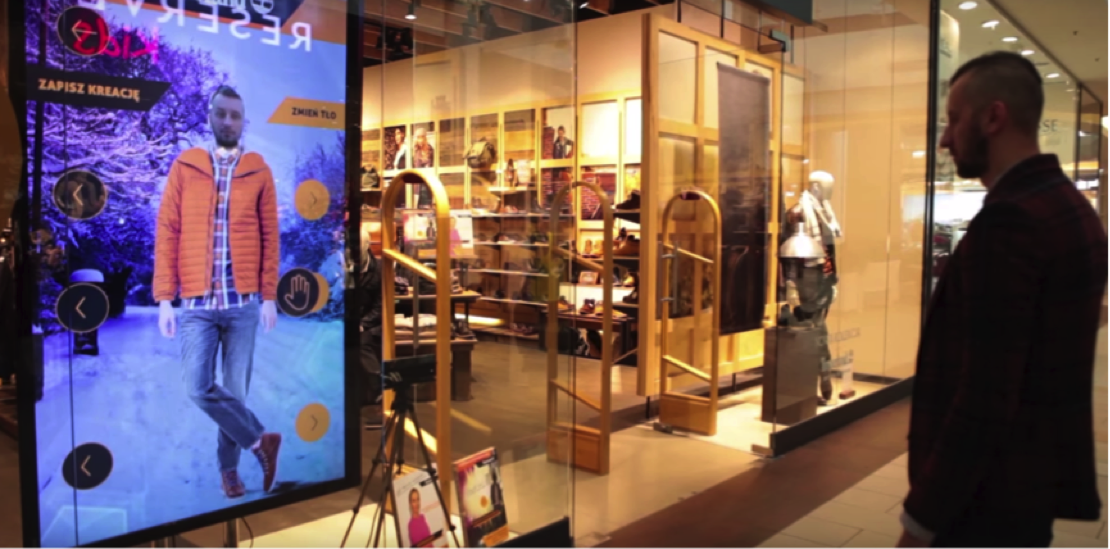 A major benefit of augmented reality dressing rooms from a brands point of view is they increase exposure to new ranges as people can see what other customers are trying. The new technology also builds excitement, which when combined with the fact emails to costumers increase the propensity to buy more than justifies the cost of the technology. For the consumers point of view the fact you don't have to faff around getting undressed to try on a range of clothes makes augmented reality a useful feature – eventually they may become so attached to it that they only frequent stores with the option to try on cloths with augmented reality.
Chatbots
Chatbots are a major new trend this year and are currently just about the hottest marketing technology in terms of the buzz they are generating around the industry.
The below chart from Google Trends shows the explosion in search interest in 'chatbots' in April of this year, and a general trend towards their greater interest over the course of 2016.
Google trends data makes it clear there has been a huge spike in interest in Chatbots recently, and this interest may well grow as more powerful AI technologies become more available to marketers looking to build capable chatbots.
Bots often conjure up bad connotations for marketers – they think of spammy Twitter bots or the kind of bots that wrongly inflate ad view counts on dodgy websites. But the good news is this generation of bots is going to be extremely good for marketers, rather than annoying. Chatbots leverage a set of rules and new AI technology to be able to respond to customer enquiries as a customer service representative would. Obviously they lack the flexibility of a real customer service rep so they are not going to be handling customer complaints any times soon. But they are really useful for handling frequently asked questions and helping out customers with basic enquiries about product stock etc. New integrations with Facebook Messenger now make it possible for chatbots built in the Facebook Messenger app to complete ecommerce payments at users request, offering new ways to smooth customer journeys on mobile devices.
A relevant example is Domino's brand new chatbot called 'Dom the Pizza Bot'. It can please orders directly through Facebook messenger. So rather than having to select your order manually or ring up, you can just message Dom the Pizza Bot!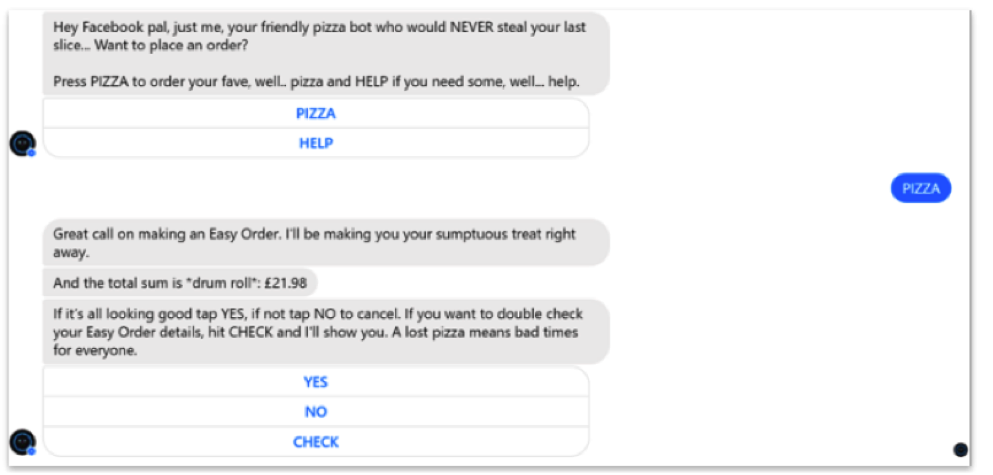 Whilst bots capabilities remain fairly basic for now, with machine learning and rapidly developing AI they are sure to increase massively over a short period of time.
Conclusion
New tech trends are going to profoundly affect marketing in 2017. Only by correctly identifying them and integrating them into their marketing strategies will marketers be able to successfully make the most of the trends to reach new markets and connect with their customers. The 3 tech trends identified here are going to be massive this year, and should be at or near the top of marketer's lists of trends to utilize.
If you own a marketing agency or provide freelance marketing services and want to create or freshen up your website – feel free to check these marketing agency WordPress themes.
About Robert Allen
Robert Allen is Editor of Smart Insights, a digital marketing advice site founded by Dr Dave Chaffey. Our Expert members, based in more than 50 countries, use our advice to improve the results for their businesses or their clients to create structured plans to develop digital strategies and manage marketing. You can follow Rob on Twitter or connect on LinkedIn.
If you're looking for a professional template to build a website, browse through our technology wordpress themes.