Intense Multipurpose Website Template: Technical Overview
Among web users, there is probably no one who's never heard about the Intense theme. And all because it is a #1 best-selling website template on the TemplateMonster marketplace. Multipurpose, developed with users in mind, and up-to-date — these are just a few reasons why it is in high demand among the users. But, let's get to the main features Intense can boast.
Check out the demo of Intense Multipurpose Website Template
Key Advantages of Intense
Like many other HTML themes developed by ZEMEZ team, Intense utilizes the latest technologies, has a responsive layout, and brings the benefits to similar HTML themes. Nevertheless, it still has features that make it stand out among the others. Let's find out which ones make Intense so distinctive.
It comes with 25+ niche skins.
Intense was developed to seamlessly work with Novi Visual

Page Builder

.
The theme is eCommerce ready.
It contains the endless number of

header

and

footer

variations.
The #1 template provides over 500 ready-made

HTML

pages.
It will also impress you with additional 15+ effects for Revolution

Slider

.
Inside the package, you will also find the blog and

portfolio

templates.

Event

calendar will enhance your

event

management.
The best 24/7 tech support is guaranteed.
All plugins and theme itself are regularly updated.
And now let's consider the advantages in detail.
A myriad of niche skins. Inside the pack, there are more than 25 niche-based templates that make Intense a tidbit for everyone. No matter if you want to launch a business-dedicated website, personal blog, or site-portfolio, this certain theme will come in handy.
Novi Visual Page Builder. This is an HTML builder with drag-n-drop functionality, multiple free templates, and must-have plugins. It makes editing and customization process a piece of cake for both non-techies planning to launch their own website, as well as coding experts working on web products for their clients.
eCommerce ready. If you want to start selling products or services online, the Intense HTML theme will come to the rescue. It contains all the needed tools to seamlessly build a fully-fledged online store: grid and list view, shopping cart, checkout, single product pages, and many more. With Intense in your pocket, you will get a chance to establish a successful business at short notice.
Header and footer variations. Headers and footers are two parts of the whole website which are worth paying special attention. Choosing the right header or footer layout for your site can make it stand out. Intense comes with a great number of ready-made header and footer styles to help you build a recognizable brand. Look what headers you'll get with this theme: transparent, background, center-aligned, left-side, floating, fullscreen overlay — and this is only a small part.
500+ ready-made HTML pages. Intense download package offers a bulk of ready-made HTML pages aimed to make your website building fast and easy. You'll definitely find what you are looking for among 500+ pages.
Revolution Slider with additional 15+ effects. Applying a slider to the main page of the website can make it more engaging and boost the visitors' interest. Whereas, over 15 effects bundled with the Revolution Slider will let you experiment with its appearance.
Blog and portfolio templates. Not only can Intense benefit business and online stores, but the theme also doesn't leave bloggers and creatives without opportunities. With blog templates, web users can build any kind of blog variations and styles. Whereas, portfolio templates will help to display your artworks in the best light.
Event calendar. The event calendar that comes with the Intense theme will boost your event management. After applying it to your website, you can easily share public events with your customers and potential clients.
24/7 tech support. In addition to the above-mentioned features, you can also rely on the dedicated support. Support service is available 24 hours a day and 7 days a week including weekends and public holidays. The specialists keep things going and are ready to help you create a business solution or resolve any problems shortly.
Regular updates. The team that has created an Intense HTML theme doesn't leave it behind. To keep it up-to-date and expand functionality available for users, the template is regularly updated. The updates are sent to you about every week so that you don't have to go the extra mile.
Speaking of updates. At regular intervals, we expanded Intense theme with brand new child themes, updated Bootstrap and scripts to the latest versions, spiced up the theme in total as well as removed everything that worked poorly. But, it's high time for a big update.
Here's where Intense 2 Intense theme enters the game. It is that big update our team is currently working on. Yes, we fully retain the brand and name. Theme id and link to it remain the same. But, you may wonder what we are going to do with the current version. The answer is simple: it will be a part of the updated product and will be called Intense Classic. When getting to the Live Demo, you will see two buttons leading to Intense and Intense Classic.
We've already been finished with a design and proceeded to code.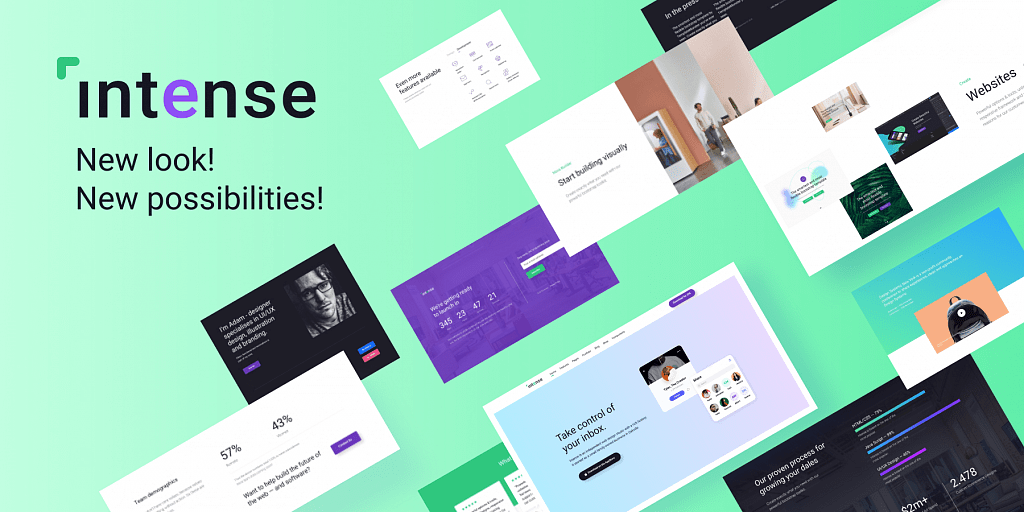 Since we already know the main features of current Intense, let's consider what the updated template is so special for.
Design. We did our best to preserve as much as possible of that huge set of elements, components, ready-made sections, and their variations. The new product is simple and clean as well but implemented with modern and classy design.
The quality and approach to coding. Intense will be our first HTML template that uses the BEM component approach to the maximum. All template components will be executed separately. For instance, the

footer

will be a separate folder in which there will be

HTML

, JS, and CSS files. This will allow swapping sections, taking them out and inserting them into another template. What's even more important, this specific approach makes it simple to adapt the theme to various

CMS

which consequently eases the process of intensive integration into WP, Joomla, or self-coded platforms. We plan to ask competent people for testing Intense in practice when it is launched. Now, this same principle is applied to Admin Templates.
Scripts and plugins. Here, a template undergoes minor changes. Some scripts we've not found a place for will disappear. However, they will remain in the classic version. In the matter of actual scripts, we plan to work a little differently.We're going to spread them on TemplateMonster in the appropriate category. First, it will be rd-navbar,

contact form

, and

parallax

. Later, we will expand the base of the scripts.If this is the

third-party

script

, but we have multiple variations of its design and settings, we also plan to sell these variations, provided that the

script

license makes it real. This way, we'll complete the category Plugins >

JavaScript

on TemplateMonster with variations of Owl

Carousel

operation,

Bootstrap

menu variations, etc.So, we get a template with all our scripts, whereas their support will be as follows: first, we plan to

update

the

script

under Intense and

update

script

on TM at the same time. This will let us always keep them up-to-date and quickly respond to clients' queries.
Updates. For the first time, we plan to make updates about every two weeks, like with the launch of current Intense. We will work on the expansion of the template that will comprise adding child themes and variations.
Release content. Let's see what Intense will include within the first and several subsequent releases:
-Intense Classic will remain as is.
– Intense Template will be launched in new design and contain many components, like:


20 blog pages with 3 single post layouts;
16 galleries with 3 single post layouts;
Shop, Services and About pages;
Calendars;
booking appointment;
pricing tables, etc.
Scripts and plugins;
Admin Template with one theme;
Child themes upon updates;
Novi Visual

Page Builder

.
Well, nothing uncommon for large templates.
The update will be fairly good, so both our new and loyal clients will be satisfied.
Wonder when to expect the first release? Get ready to meet a new product on November 12.