Jigoshop. How to Import/Export shop data
This tutorial shows how to How to Import/Export shop data.
1. Lets export products. Go to Tools-Export. Select the content you need to import. In our case we need to export products. You should perform the same actions to orders, coupons and other type of data.
2. Click on Download file and save it. File will have .xml extension.
3. Lets Import data. Go to Tools-Import.
Select WordPress importer plugin.
4.Plugin installation window will appear in case the plugin is not installed on your WordPress. Install the plugin and activate it.
5. Select the file and click on import.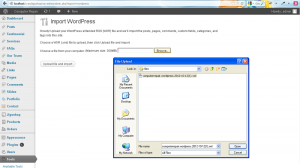 6. Select Download and import attachments option. Click on submit button.
7. Products were imported.
In this tutorial we have found out how to Import/Export shop data.
Feel free to check the detailed video tutorial below: