This tutorial shows how to add new K2 Content item in Joomla. K2 components is used in Joomla website as replacement for the default content component. It has a lot of benefits as category templates, commenting system, tags system, image gallery, extra fields etc. Our team tested K2 component and decided to us it in Joomla 2.5 templates. In more recent templates you won't find K2 component.
We already described how to work with content in K2
Let's see how to add categories in K2.
1. Open Joomla administration panel and go to Components>K2 > Categories.
2. Then click New button in the top right corner
3. At the appeared screen you can define category settings.
General Settings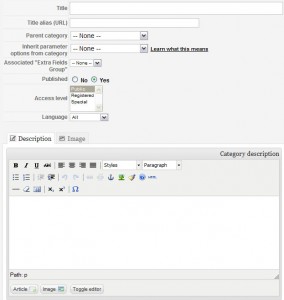 Title – input category title
Title alias – generated automatically. It's a machine friendly category name. Used in the URL
Parent Category – allows to create nested categories.
Inherit Parameters – allows to copy category settings from other category
Associated Extra fields – assign extra fields group to the category
Published – check if you want to publish category or not
Access level – define what group of users the category will be visible to
Language – select category language
Description and Image – input category description and image
In the right column you can see category specific settings that allows you to adjust category layout. Let's see what options we have.
Category item Layout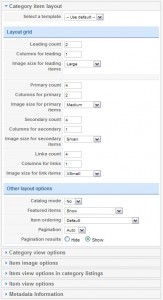 Category template – allows you to select category layout template. Category template files are located in the templates/theme###/html/com_k2/templates folder.
Layout Grid – allows to define how the content items appear. The following scheme displays the category layout using the above settings.
Using the Count and columns fields you can define the number of items and columns for the category layout.
You can also select the image size for each items area.
In the Other layout options you can select if you want to display items from sub-categories, define items order and pagination.
Please note that you can hover over the option title to see short tip.
Category View Options
Allows you to define what parts of the category details you want to display at the category page
Item image options

Here you can define the width for the item images. The images width values should be defined before you upload images to your items.
Item view options in category listings
Allows to define what parts of tem details you want to display at the category listing page.
Item view options
Allows to define what parts of tem details you want to display at the item view page.
Metadata Information
Here you can define the search engine friendly description for the category