This tutorial will show you how edit FAQ page in VirtueMart 2.x website.
VirtueMart 2.x. How to edit FAQ page
FAQ (Frequently Asked Question) page is an online document that poses a series of common questions and answers on a specific topic: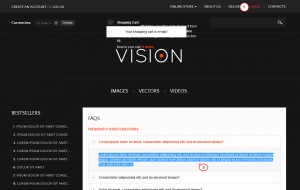 You will need to complete 2 basic steps:
Disable the default editor:

Edit FAQ page itself:

Click Search Tools button and Select Category field. You can see the category in a drop-down list (that could be FAQ, Blog or any other), click it to sort the articles assigned to this particular category. In our case, it is "Uncategorised":

Enter a question and an appropriate answer in the text field (make sure you are editing after clicking Toggle Editor):

Update changes and refresh your FAQ page.
Feel free to check the detailed video tutorial below:
VirtueMart 2.x. How to edit FAQ page
We would also recommend you to view the Joomla Templates in case you need a wider choice of website building solutions.