In this tutorial we will learn how to deal with longer text in XML Flash Templates.
In this example we are going to change the People category name to a longer text. We will learn how to fix the Cut off and Overlapping issues.

Open the main.xml file from sources/flash folder.
Find the text (category name) which we want to change and change the People title to Longer text here.
Save this file.
Open the .FLA file from sources/flash folder in Adobe Flash program.
Using the library locate the category menu movie clip. In this example, we are looking for menugall movie clip.
Open the menugall movie clip in the Scene. Find category menu objects and spread them out in the Scene. This way, we will make some room for a longer text.
Once that is done, find the object, which will hold more text. Double click on it to get inside that movie clip.
You will find various layers for the text, animation, hit and a mask.
Find that mask layer and extend it using the Free Transform tool.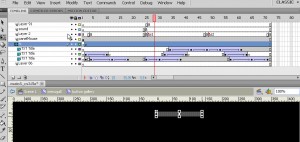 Check for other mask layers, which may be hidden.
Publish your .FLA file to see the preview.
Feel free to check the detailed video tutorial below:
XML Flash. How to deal with long text