This time you will learn how to change the parallax video added in the header section of your cherry options to static image in CherryFramework 3 templates.
CherryFramework 3. How to change parallax video to an image (when video is managed via Cherry Options)
Navigate to Appearance -> Editor section in your WordPress admin panel and find static-parallax-video.php file.
When you have opened it, search for the following part of the code:
$typemedia = 'video';
and change to:
$typemedia = 'image';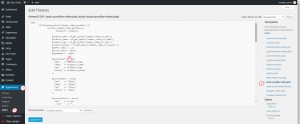 Save the changes and reload the web-site. You will see static image instead of the video.
Feel free to check the detailed video tutorial below:
CherryFramework 3. How to change parallax video to an image (when video is managed via Cherry Options)