50 Free WordPress Themes 2020
The basis of any site is a high-quality template. And most importantly, it is to choose the most appropriate theme with a huge number of features that can provide effective work of the website. So we have prepared for you a fantastic selection of 50 best themes, with which you can create a perfect site from scratch. All presented templates were designed by highly experienced developers, who took into account the latest trends in web design. Each of them will allow you to build not only a good-looking, but also a powerful website. Of course, you do not need to have any special knowledge in programming to build your ideal online project.
---
It is a wonderful template for creating a construction site. This theme is designed for those who work with architecture. But if it is necessary you may change the theme for any of your purposes. The advanced settings of Worky lite allow you to work with various components of the site to make it stand out from the rest. You can change literally all elements, their colors, size, and location on the site. Four blog layouts will also help you do this. You can also use background settings to add even more unique elements to your future project. In addition, Worky lite works perfectly on any mobile device. As well as the site created with this theme will work perfectly in popular browsers. Besides, Worky lite is ready to be translated. Built-in WPML plugin will help you in this. Also the theme includes Elementor Page Builder. And with it a package of widgets, integration with Google maps and fonts, different effects for the gallery, as well as different options for titles and tables. You can find out more in the demo version of this absolutely great template!
---
A really good-looking template that will be an ideal assistant in creating a website of a travel company, a personal blog of a tour guide or a tourist. Furthermore, the template is perfect for tour operators, hotels and airlines. It is installed in one click, which should definitely please many customers. It can be used to place various offers for booking, customer reviews, calls for action, advanced search forms, photo galleries and other elements. Due to the built-in Elementor Page Builder, the settings are quite extensive, so you are able to work with content in a variety of directions. In addition, many relevant images are already included in this template package. Tourizto lite fully responsive theme, which, in addition, surprises with its cross-browser. This is what helps to open your site in most popular browsers. In addition, the theme includes additional plugins, and editors. Also Tourizto lite has a built-in system of comments, and feedbacks. And the template works perfectly with the latest versions of WordPress, and supports all new updates.
---
Today the issue of environmental protection is very hot. So your site can become really popular and in high demand. A website with this elegant, trendy and fresh template can draw the attention of users to environmental issues, and encourage them to take action. Its adaptive design will not allow your future website to lose its attractive appearance if it is viewed on a device with a small screen resolution. The template set also includes various popular plugins that will make your design project even more powerful. In addition, the built-in Visual Editor will help you to create a really attractive website design. Also, the presence of a contact form will give visitors the opportunity to contact you to learn more about the information provided, or products on the site. Epa Green Lite also includes different kinds of menus, cross-browser, multilingual, fast installation, media library, integration with Google maps and fonts, additional plugins (Retina, ECWID), editor WordPress Live Customizer, Elementor Page Builder to create a unique design, the ability to build page layouts using drag-and-drop functionality, and so forth.
---
Are you looking for a way to promote your business? Want to create your own personal website and do not know what theme to choose? Then Consor lite is the perfect solution for you. In this case, in order to promote your business on the Internet, you do not have to put a lot of effort. Just think about choosing this multifunctional template. This easy-to-use, flexible and SEO optimized theme is perfect for small and medium businesses. It includes an advanced search that allows each user to find the information they need in several times faster. And social settings give you the chance to share it with the most popular social media profiles. You may customize all the elements of the site by yourself, and change them if it is necessary. Responsive design of this theme combines three methods – flexible layout, flexible images and media queries. Besides, Consor lite has valid and clean HTML code. The theme works perfectly with the latest versions of WordPress, and this will allow your site to constantly develop, and keep up with innovations.
---
BuildWall is a reliable, professional theme for the multi-page WordPress website. The theme includes a set of demo sites and page templates that you can deploy with a single click. They are customized for specific applications and cover a variety of industries and interests. This is an ideal theme for webmasters who want to create an online platform for their projects. Websites of construction companies are particularly well suited to a wide range of offers, features and layouts. BuildWall is filled with customizable gallery settings and layouts, widget headers, bottom areas and side panels with an extensive collection of useful widgets, handy shortcuts that make it easy to work with your prices, additional plugins that accelerate and improve your work. Finally, it uses WordPress Customizer and is compatible with WPML and popular browsers. Your site will impress users on both PC and mobile devices with its adaptability. There are 6 different pages and types of posts: services, customers, projects, staff, slider and contacts. This will make it easier to categorize your content. Customize whatever you want. Documentation is also included in BuildWall. Plus technical support from TemplateMonster can help you at any time. You can ask any question and get a professional answer!
---
Here is a template that is ideal for the site of a construction company, for the sale of construction accessories, and similar things associated with this. This is a fairly reliable adaptive multi-user WordPress theme. This template is a high-quality platform for creating professional good-looking websites. Powerful settings panel allows you to manage a variety of fonts, colors, layouts and styles. Contractor includes exciting and extraordinary effects for browsing the gallery, which makes your site sophisticated and elegant. The developers are proud of the quality of this theme, and claim that it is one of the best free themes for the construction website on this day. To use the template is not difficult, as it is designed for any user. There is no need for coding or advanced programming with just one click to make the installation. This avoids the need to run the website from scratch. Built-in additional editors and plugins make the whole website creation process more intuitive and user-friendly. Contractor lite has everything you need to build a functional construction website. It is ideal for a successful construction website.
---
It is a stylish, fresh, and trendy theme. It is perfect for any kind of site. An excellent choice for those who want to attract hundreds of new customers to their website. Meltony lite has an adaptive design that allows you to open the site on your PC or mobile devices. The theme also includes a contact form. And if users have any questions about the services offered or their prices, they can contact your team by using this form. To make your company trustworthy in the eyes of the target audience, you can include in your online project feedback from regular customers. Since Meltony lite also supports this feature. You can also use Google maps and fonts. And this is a great opportunity to use unusual typography, and surprise your audience. And with Google maps, you can specify your location.
Among other features you will find a lot more:
different kinds of menus,

WPML

, Retina and ECWID ready,
Live

Customizer

support,

MailChimp

ready template,
Elementor

Page Builder

,
round-the-clock technical support,
compatibility with different browsers.
---
MediCare is really good looking: the combination of blue and white is a classic combination for "medical" designs, and the palette of shades emphasizes the most important elements of the site. It is a modern design, which is also optimized for search engine algorithms. MediCare includes 5 different page templates. You can use any of them. In addition, available various options for layouts, which will best provide your business and service. The theme design is quite thought-out, as the page does not seem full and contains only the most important and necessary information. The WPML plugin allows you to customize your website for fast translation. And your users will feel more comfortable using your site. The adaptability of the design makes your site looks perfect on any device. Also this professional theme is very easy to install and customize. And in addition, you can get quality technical support at any time. Our professionals will answer all your questions!
---
A minimalistic template for an interior designer, furniture store with the ability to showcase your products or portfolio, which will not only attract visitors, but also become a tool for promotion through advanced SEO-optimization. This is a powerful all-purpose theme that uses the latest technologies of WordPress. Free Furnicom is suitable both for freelancers and for companies, enterprises or agencies. The light and elegant design is complemented by great animation. This theme has a responsive design, and will look great on mobile devices. Built-in Elementor Page Builder allows you to use many widgets, and improve the appearance of the website in a few minutes. Free Furnicom contains 6 page templates. Internal pages can be customized to your own taste, as it includes a standard WordPress set of plugins to configure. Also this theme is ready to be translated, so users all over the world can use your site.
---
Eye-catching, modern, extraordinary and attractive design is what you would expect from an IronMass theme. Besides great design, you will also be surprised by the functionality of this theme! This template is ideal for the website of fitness topics, as well as for training and bodybuilding clubs, and motivators. Built-in Elementor Page Builder allows you to build your website from individual modules and blocks easily and without additional programming knowledge. The template is adapted for search engines. The set of themes includes ready-made page layouts: Home, About Us, Services, Blog, Contacts. By following the tips on layouts, you may enter your information and the basis of the site is ready. IronMass is intuitive and very easy to use. Other important features are: integration with Google fonts, and maps, beautiful blog layouts, different color schemes, WPML, ECWID and Retina ready, adaptive design, clean code, SEO-optimization. All this is the key to your success on the Internet.
---
This is a great template for the site service cars, service stations or private entrepreneurs. The template is designed so that you do not need to know the coding and basics of programming. To customize the theme you use the editor in real time view, and to develop the design of pages – visual editor Elementor (this theme includes it). You can also use all images of a car theme from the media library of the template. Since car topics are popular, and motorists love to read the news, be sure to use the built-in blog. This will help you attract more audiences. The adaptive design quickly responds to any size of the device screen. Fair Wind lite includes a system of comments and feedback to help you communicate with your audience and thus improve your website. Live Customizer is also used to customize the basic parameters of a theme. You can change the settings of a theme and see how it looks on the site – all in one window.
---
WordPress thematic template for a landscape design site, a blog about gardening, and tips for gardeners. The nice color scheme, easy animations look quite fresh and trendy. The authors made internal pages for the blog, special sections "about us" and services. Traditional premium set of plugins will help you set up and customize the resource without the need for coding, everything is fully automated. It is precisely these plugins help to add various widgets, effects on the photo, and translate pages on the site. Also this theme has a responsive and adaptive design. Active integration with social networks is also provided. And it may allow you to simultaneously promote both a blog and an account. Professional minimalistic design: nothing extra, strict and attractive. The theme also includes a MailChimp newsletter template. This theme is made by professionals, quickly customizable, downloadable, and ready to launch the site at any time.
---
It is just a classy, fantastic, and cool theme that can impress everyone. This is a free, simplified version of the multifunctional Monstroid 2 WordPress template. Monstroid 2 Lite contains amazing features and thereby opens up simply incredible possibilities. In Monstroid 2, the options bar is replaced by the Live Customizer. It is more convenient than the options bar to make changes to your site. You can customize everything: logo, typography, color, widgets, navigation, social links and more.
Among the main features:
built-in calendar.
comments and reviews system,
the popular Cherry

Framework

,

media

library,

HTML

plus JS animation,

contact form

, and search form,
pure and valid

HTML

code,
different color schemes,
integration with Google fonts (gorgeous typography), and maps,
completely free.
---
This is a free, minimalistic theme for online news, media and the magazine's website. 24.Storycle lite is one of the best free themes for news sites that offers modern, clean and fresh design. The adaptive design is suitable for any device, regardless of its size. By default you have access to more than 800 Google fonts, which greatly expands your typographic possibilities. This is a huge advantage, especially since most magazines need to be distinguished by clear text. The carousel of posts is another way to get attention and make people stay on your site longer. You can integrate with Google ads or insert your own advertising banners. You can change the color scheme of your theme to match your logo, and more.
---
Cafe and restaurant sites can be launched in a couple of days and without extra investment using the Mia Ittalloni template. Simple and intuitive design of its pages will be appreciated by those who prefer clear web portals. The template contains a wide range of fully customizable pages and design elements. All that is available in the demo version will be installed on the site in minutes. Adaptivity of all design elements ensures quality and appropriate display of content on smartphones and tablets. You can edit and customize everything: layouts, headers, widgets, logo, and other elements of the site. You also get detailed documentation with the theme. But if you have any questions about this template, you can contact our technical support team. Our professionals 24/7 are available to help you.
---
Gambit is a flexible template that can be used for any type of site. You can create a news portal, a personal blog, a cooking site and even a shop. The key to the design is the eye-catching photos and white background, making them more visible and much more attractive.
Using Gambit theme you can change the following settings: site properties, colors, title image, background image, menu, widgets, static home page. This template is very intuitive, and the developers have made working with it so easy that you can create a fully functional website in a very short time. You can also add interesting articles, notes or your photos, everything that can be unique, written and made by you.
Gambit's template is cross-browser, which allows it to work properly in all modern browsers, in browsers of various devices, including mobile, which significantly expands the range of visitors to the site. The code is optimized to work with search engines and the Gambit template interface is adaptive. There are two obviously important template settings, and the default settings are already set by the developers. Besides, the template is ready for translation. So you don't need to use any additional plugins to connect the translation to your website.
---
Business Eleven is a highly customizable WordPress theme, designed mainly for freelancers and businessmen, but it can also be used for start-ups and small medium sized organizations. Using such WordPress startup themes, online entrepreneurs can create attractive websites in just a few minutes, even if they are new to WordPress. The template has a very attractive design and it allows you to add many bright elements to the site that will not distract users from the main content. Business Eleven also makes it possible to change all the components of the site, including color schemes. The template is adapted for mobile devices and looks stunning on iPad and mobile devices. Logos, colors and other settings can be easily changed in the settings section.
---
It is a wonderful modern adaptive WordPress theme that is designed for gyms, yoga centers, fitness enthusiasts, personal instructors, yoga coaches, slimming fans, sports experts, and so forth. Meditation And Yoga is in one word a multifunctional WordPress theme that will fit any type of business website. The template is adapted for mobile devices, optimized for SEO and supported by the Page Builder for easy setup. The template includes step-by-step documentation on configuring the theme and demo data. Also the theme comes with various layouts that you can easily add and change. In addition, Meditation And Yoga includes additional built-in plugins that also make it easy to create a website. In addition, a SEO-friendly theme will provide you with a high rating in search engines.
---
The theme is specially prepared to create a website for the provision of services, including repair of electronics and household appliances at home and in the service center. JohnnyGo Lite includes ready-made blog layouts and wonderful header layouts, as well as page layouts that will make your service popular and successful. The theme offers powerful functionality for visual presentation of your products, services and projects. Financial affairs can be performed online using the WooCommerce plugin. It allows you to create all kinds of categories of goods and services, price lists, product cards and shopping cart, product reviews and more. It also includes additional plugins such as WPML, Retina and ECWID. They are responsible for high-quality translation of the site; quality images and text on the site, and quick and easy creation of the store. 24/7 support guarantees you answers to all your questions.
---
GRIMM is a theme that is ideal for studios developing computer games, animation and commercials. The modern, adaptive design of the theme attracts attention at a first sight. Included with the theme you get bonus pictures, header models and logo styles, different location options for blog posts and pictures, demo data. Plugin to create a store, included in the theme, will quickly set up an online store. Users who have already installed the template on their sites, note that due to the demo data you can quickly set up a site as a preview. Among the cool features is also worth noting Cherry Framework. This is a framework that includes plugins that can extend the capabilities of the theme for WordPress. GRIMM also allows you to create a blog, online store, personal website, and corporate website. SEO optimization promotes the popularity of your website. The theme is adaptive, the design quickly adjusts to any screen size. With custom widgets you can add various communications to your website: maps, tariffs and prices, events and more. Due to WPML plugin, foreign visitors will feel great on your website as if they were on their own. The premium Mega Menu plugin will help you organize your website navigation, more powerful and functional than the one provided in WordPress. Your visitors will easily find your favorite and new games, blog with interesting articles, reviews and news.
---
In order to get people to invest in the courses you offer, it is important to have an attractive and easy to navigate website. We suggest installing a Spellolite template for this purpose. An unusual structure in the design gives the theme a modern look and user-friendly interface. The theme is ideal for various language courses, schools, university and college websites. And this is all due to its multi-purpose nature. This theme comes with one-click demo layouts. If you have more unique layout requirements, you can use a connected Visual editor. This tool allows you to create custom headers, mega menus and much more. Basic template features:
unlimited color options,
over 500 Google fonts,
effects on photos and videos,
a system of comments and feedback, which will help attract many new audiences,
Elementor

Page Builder

,

SEO

optimization,
user-friendly,
built-in

MailChimp

newsletter

template,
built-in calendar,
different kinds of menus.
---
This is a very cool free theme with which you can create an unusual shelter site for pets, the site of the pet shop, or products for pets. With PetInn you get a functional pet store website with adaptive layout, integrated with many payment and accounting systems, marketing services and various advanced online services. At your disposal will be all the development studio WP Shop, as well as high-quality technical support. Our professionals will help you at any stage of work! The theme comes with Elementor Page Builder, which means you get an incredible number of widgets, access to edit all the elements on the site, and so on. A website with PetInn theme will work great and will display in any popular browser. And this is due to cross-browser. In addition, the theme is fully adaptive and responsive. And it means that the site can be opened and used both on mobile devices and tablets, and on PCs. A special blank for galleries, will help showcase various products for animals – such as toys, feeding trough, and etc. In addition, the theme is ready to work with different plugins. And as a result, you can easily connect a donation plugin, which will be useful for animal shelters.
---
MalcolmY is a wonderful, innovative template that is designed to create a memorable online portfolio of the designer. Minimalism is the trend of 2020, which means you can be in the mood with this theme. The MalcolmY minimalism allows you to add any elements to the site and combine them. In addition, your audience will be able to focus on the content, and better receive information from the site. Integration with social networks helps to spread information about your site. In addition, users can share posts and photos from the website. Template supports various page layouts, widgets and content modules that will give the opportunity to create a unique appearance of the future site. Among other features available:
built-in plugins,
fast installation,
fully customizable elements,
responsive and adaptive design,

SEO

optimization,
the comment system,
a clean and valid code,
24/7 technical support,
integration with Google fonts and as a result excellent typography.
Template is constantly updated and improved, that is, your site will not be in conflict with new versions of WordPress.
---
Blossom Travel is a clean and responsive WordPress theme that is good for fashion, writers, travel, business, finance, portfolio, design, art, photography, personal or any other creative websites and blogs. And this is all because of its multi-purpose feature. You can add trips, destinations and types of trips, describe travel events, and highlight your own special features. Stunning design combined with modern effects and animation will give your visitors the feeling that they are already on the journey. Blossom Travel theme has special sections for subscription to Instagram and E-mail. This will help you increase the number of Instagram subscribers and mailing list. This theme is designed on the basis of an adaptive platform that makes it mobile and convenient for tablets. All the elements that the theme contains can be easily changed and customized. Besides, the Blossom Travel theme comes with full detailed documentation. But if you have any questions, you can always contact the team of professionals from the technical support.
---
As the Internet expands and online shopping grows, more and more people are starting their own online business. If you consider yourself an entrepreneur, selling online products is one of the most affordable ways to start and run your own business. So iShop is the perfect solution for you. This is a great template for a store on different topics. You can transform it by changing all the elements of the site. The theme is fully adaptive and comes with different settings. As you would expect from an iShop theme, it integrates easily with WooCommerce, allowing you to take full advantage of the e-commerce plugin. The theme is clean, fully adaptable and ideal for those who want to create a stunning and gorgeous online store. The theme also includes a Jetpack plugin. And this is a huge plus, as you can expand the functionality of your future website in this way. This is a very smart theme that also includes the following features:
color skins,
a lot of Google fonts,
adaptive and responsive,
is fully ready for translation,
supports a wide range of settings,
detailed documentation,
quality technical support.
---
This is a very gentle, beautiful and sophisticated template for the site. This minimalistic and modern theme can be used not only for online projects that are related to the wedding theme. It is quite suitable for creating a personal blog. You can change the appearance of the site as you want, because the number of options for personalization is almost unlimited. You will have several design options, which means that you can experiment with the structure of pages. The template also includes a variety of content modules that allow you to add and combine different types of information on the website. Also the Iridescent theme is fully ready for translation. This means that your clients can be people from all over the world. You also get integration with social networks and a contact form. And just with social networks, you can promote your projects online. Iridescent also includes a huge number of additional plugins to help improve your website. In addition, professional technical documentation is also included with the theme. So you should not have any problems with installing and configuring the Iridescent template.
---
Travelop is a stylish, trendy, free WordPress theme based on blogs and portfolios. The layout of this theme was artistically designed with eye-catching colors. The theme is multi-purpose, so you can use it for business, corporate or any other purposes. You can change the widgets as you wish, it is easy to customize and change the design of the theme. This theme will be a good choice for a travel site or a blog about tourism. The template has integration with social networks, so you can share your great website through Facebook, Twitter, Instagram and other networks. With this theme you can showcase your blogs, stories and articles. Or simply create a website for your portfolio for personal or business purposes. Travelop is perfectly coded using HTML5 and CSS3, looks fantastic and provides a solid structure. With good compatibility with the Contact Form plugin, set up a simple form to communicate with your customers. The theme is fully compatible with different browsers, so it looks great in any browser such as Opera, Firefox, Chrome and Safari. The theme is adaptive, so your site will fit perfectly with all kinds of smart devices such as mobile phones and tablets.
---
The theme of GTL News is a favorite among most news themes because it provides a clean and modern interface with an adaptive layout and built-in social networking buttons. In fact, it is one of the most impressive free solutions, especially if you try to test your capabilities on a news site. The free GTL News template uses modern fonts and colors as well as an adaptive interface that looks good on all devices. It is a clear solution for anyone who is interested in creating an online portal or media site. The template is suitable for sports, lifestyle, food or travel websites. The theme has a default color scheme, but you can change it to match your logo. Integration with social networks is convenient to attract users to your own pages, as well as to attract visitors to the publications on your blog. GTL News includes browsing and search functions, which will make the process of finding content a little easier for your visitors.
---
Adaptive, responsive, clean and fresh the Cherry Framework is the perfect solution for you. This theme is flexible, and you can customize it to suit your needs. This is a free adaptive multi-user template that fits any company, corporate agency, creative website, travel or fashion blog site. The main features are:
adaptive design,

SEO

optimized,
Google fonts, and maps,
Custom Page template support,

Retina ready

,
ready for translation at any time,
a high-quality, clean and valid code,
interesting and useful widgets,
flexibility in settings,
various animations (

HTML

+JS, and

parallax

),
integration with social networks,
cross-

browser

,
24/7 technical support and so on.
Cherry Framework is responsive and user-friendly for mobile devices, looks equally beautiful on any device. No matter what device people use, the site loads perfectly and quickly.
---
A great theme for the site entertainment project, amusement park, water park, playland and much more. You can set the theme in a few minutes. During this time you will download the template, Cherry plugins, visual editor Power Drag-and-Drop Page Builder and other useful functionality. Before setting up your design, be sure to read the structural content modules that also come with the theme. They will make your work on the website much easier. The Adveland Amusement Park is also included: blocks, audio/video, buttons, action calls, contact forms, feedback and comment system and much more. Visual editor, content modules and structural page layouts – this is all you need for a highly modern unique page design. Custom widgets will further increase the customer experience of your business opportunities. Adaptive template perfectly adjusts to all screen sizes. The theme can be customized to any language with the WPML plugin, which will make your site popular anywhere in the world. Constant free updates and technical support will also be provided. Adveland Amusement Park is compatible with the latest versions of WordPress as well.
---
This theme immediately after release became quite popular, and at the moment its active installations exceed one million. This theme has a very minimalist and at the same time unusual design. With the Twenty Seventeen theme you can create a site of any subject. It can even be a personal blog. Since the presence of different page layouts allows you to do this. Twenty Seventeen is a SEO optimized theme. And in addition, it is responsive and flexible. All elements, tables, columns, and etc. you can easily change and customize. It is easily adjustable, simple, fast and easy theme, so it takes very little time to create a great website. The template has an adaptive design that automatically scales for different screen resolutions. Template is based on Customizer tool, it is super easy to customize the whole theme. In addition, the theme is cross-browser. And your users can use the site in any browser. Also Twenty Seventeen is compatible with various plugins. That is, you can improve your site at any time with the help of various add-ons.
---
It is a wonderful, fresh and unique theme with great functionality. This is a fully adaptable multifunctional free WordPress theme for creating stylish websites. All built-in features make this theme comfortable and easy to work with. Custom widgets can be easily moved, combined and completed like a constructor. Lyrical is integrated with Google fonts, so the typography of this theme is absolutely impressive. Also the theme is completely adaptive. Users will be able to view your site from any device, and due to cross-browser from any web browser. The theme is based on the WordPress Customizer tool, which allows you to configure almost everything with a live preview. The Lyrical theme is compatible with all major WP plugins. Additionally, various blog layouts are available. The theme also integrates with social networks. And this in turn allows users to share posts, photos and information from your site.
---
Light, romantic and relaxed theme can be a great solution for you if you want to create a business related to the wedding. Jen + Ben allows you to showcase your portfolio and opportunities at the same time, as well as sell decorative details, wedding clothes, jewelry or flowers. The template is fully adaptive and looks great on any mobile device. It is easy, just one click you can change photos and even the color scheme of the site.
The set includes: convenient sliders for uploading photos; the ability to scroll; unobtrusive charming design; the ability to connect a blog; SEO optimization; user-friendly interface; cross-browser; setting all the components of the theme; convenient constructor Elementor; setting up color schemes online; built-in additional plugins that allow high-quality images and text, as well as translate information on the site; built-in Live Customizer, which helps to edit the site in real time.
---
The traders, managers, consultants, experts in the field of digital currencies, all need a quality site to work and provide their services. The more high-quality site, the more you will get clients. You should not neglect the original design, exclusive features and adaptive layout, even a properly selected font affects the result. Due to the increasing popularity of cryptocurrency, TemplateMonster has prepared a truly ideal template for this topic. This is Bitunit lite. This template contains modern web design solutions, a wide range of themes and widgets, and wide opportunities for the implementation of their own business in the field of cryptocurrency. The main features:
adaptive design ( the visitors will get the most useful information in a convenient format from any device, be it a PC monitor, tablet or smartphone screen);
cross-

browser

( that means that users of Mozilla Firefox and Google Chrome will see absolutely the same site as fans of Safari, Opera or

Internet

Explorer);
integration with social networks (the ability to distribute content using social networking buttons);

SEO

optimization (Bitunit has many useful features: optimization of

website

load speed, indexed content, and a set of convenient tools for working with

SEO

);
practical and neat design;
different versions of page layouts;
integration with Google fonts and maps.
---
This is a very trendy theme with a minimalist design. Due to this, users will not be distracted from the content and posts on the site. An attractive WordPress template for the finance industry in a light and minimalist style, which is associated with reliability, the quality of the work performed. Theme also includes a clean typography with a large selection of Google fonts, a lot of convenient options-widgets for the most accurate setup. A Visual Editor helps you fine-tune your design while maintaining adaptability for mobile devices. The authors of the theme emphasize the presence of many " clean" quality fonts, full adaptability and provided optimization for search engines. This will be useful for the development of the resource in the direction of the required information and the process of natural promotion. WordPress Theme for Consulting Firm is also ready to work with most WordPress plugins.
---
Pilates Center is a free and exciting WordPress theme designed for fitness and health centers. With its unique and attractive design, any fitness center or club can create the perfect website to attract a large audience. The theme has all the features that will make it popular among users. Simple and at the same time sophisticated design of the theme allows any visitor to feel comfortable on your site. The theme is adaptive, so your site will fit perfectly with all kinds of smart devices such as mobile phones and tablets of all sizes. Template SEO-optimized and ensures that the rating of Google and Yandex your site will be on top. The theme is easily customizable and the presence of a feedback section, comments and contact form makes it more user-friendly. The theme is also supported by a WPML plugin. This allows users around the world to use your site.
---
This theme is ideal for online store computer and household equipment, as well as services for repair and maintenance of electronics, and cars. Well-developed mobile version is available on all devices with small screens. With the one-click installation and Live Customizer theme editor, the site can be launched quickly and without problems. And a Visual Editor, along with page blanks, header and basement layout, will help you create a website that is completely different from the others. Built-in Google maps provide customers with the ability to find your location. Template is adaptive and SEO-oriented, perfectly perceived by search engines. For greater customer confidence, it is better to blog and present all members of your service company. For this purpose, the template also has everything you need. Free car WordPress theme also includes a multilingual plugin. And it can also increase the possibility of becoming a popular site in a certain area. Integration with social networks will make you popular in social networks, and thus allow your user to share your records on their personal accounts.
---
WordPress theme for hotel is a wonderful theme that was created especially for the hotel business. The theme offers unique and fashionable page layouts. Template is easy to set up and offers an incredible number of features you need. For example:
WPML

plugin

,

SEO

optimization,
responsive design,
user-friendly interface,
Visual

Editor

,
Elementor

Page Builder

,
compatibility with the latest versions of WordPress,

widget

customization,
integration with social networks,
over 800 Google fonts, so on.
In addition, the theme is constantly updated and can be easily adjusted to suit your own purposes.
This WordPress theme for hotels offers fantastic features and documentation. And customers often praise it for its excellent and high-quality technical support.
---
The site has become a must-have for any business in nowadays world. The medical field, mainly hospitals, clinics and pharmacies, certainly need an online presence so that the world can find them on the Internet. Having a website not only makes your business more professional, but also helps to promote it around the world. This Free WordPress Template can be the perfect solution for your purpose. It is considered one of the best medical free themes for WordPress. With this theme, you will have a great professional website with a unique set of features. Free WordPress Template has a modern, stylish and excellent design. The theme can be used to create a portfolio page for physicians or medical students. The theme layout consists of different sections: home page, about us, blog and contact section. Being a user-friendly theme, anyone can easily customize it with the built-in configuration tool. The theme has good cross-browser compatibility and is guaranteed to be well represented in any browser such as Google Chrome, Firefox, Opera and Safari. The theme is adaptive. Your site will look great when people check it out on their smartphones and tablets. Free WordPress Template also supports social networks.
---
Stock Photo template is simple, but offers an incredibly beautiful design that can be a good start for your business. This template can be used as a personal blog of the photographer, or as a creative website of the designer. It is a free theme, but its functionality is similar to premium offers. The template is built using the Live Customizer, which allows you to fully customize the theme in real time. To make your page beautiful and convenient, you can use custom widgets. And Stock Photo in turn has many additional custom widgets, color options, advanced slider features and many other features. The theme is fully adaptive. It also supports WPML and Contact Form plugin. The template has many convenient settings for the design. Stock Photo creators follow the best WordPress coding methods, it will make your website fast, safe and SEO optimized. The theme is pleasant with its cross-browser and compatibility with popular browsers. You can create your ideal website in a very short time, even without coding skills, and delight users with bright photos and videos.
---
Kustrix Lite is a ready-made solution for creating blogs and personal pages on fashion and style. This free theme is great for a blog or store, for those who are madly fond of posting about fashion as well as selling products. All design elements are fully customizable and adaptable. The template contains an online Page Editor. Pretty powerful admin panel contains all the elements that may come in useful during product set-up. All pages are SEO-optimized and built with clean and valid code. Kustrix Lite also includes various types of gallery, including carousel and slider. This provides a very attractive and extraordinary display of your photos. Kustrix theme has support for HTML5 and CSS3. This theme can be considered as one of the best free fashion themes. Creating a fashion store has never been more comfortable than with Kustrix Lite.
---
This is an extremely cool, easy-to-use, intuitive, and fashionable theme for the WordPress site. Neve is a multi-purpose theme that you can easily and quickly set up. It is ideal for various blogs, business sites, travel agencies in various fields, e-commerce stores, as well as personal sites and portfolios. Neve is a fully optimized theme. The template has an adaptive design that automatically scales for different screen resolutions. The Neve theme provides beautifully designed layouts for your page, portfolio, blog and contacts. Full-featured sliders and all other content blocks look smooth and gentle, which can make your visitors satisfied. The template is based on the Customizer tool, this is a super-flexible setting of the whole theme. You can customize most of the settings: header, background, colors and so forth. The theme is very easy to use. Due to integration with WooCommerce, it will allow you to create everything you need for a full-fledged online store: shopping cart, cash register, category collection page, store page. Neve takes full advantage of all the plugins that are included in it and provides a user-friendly interface.
---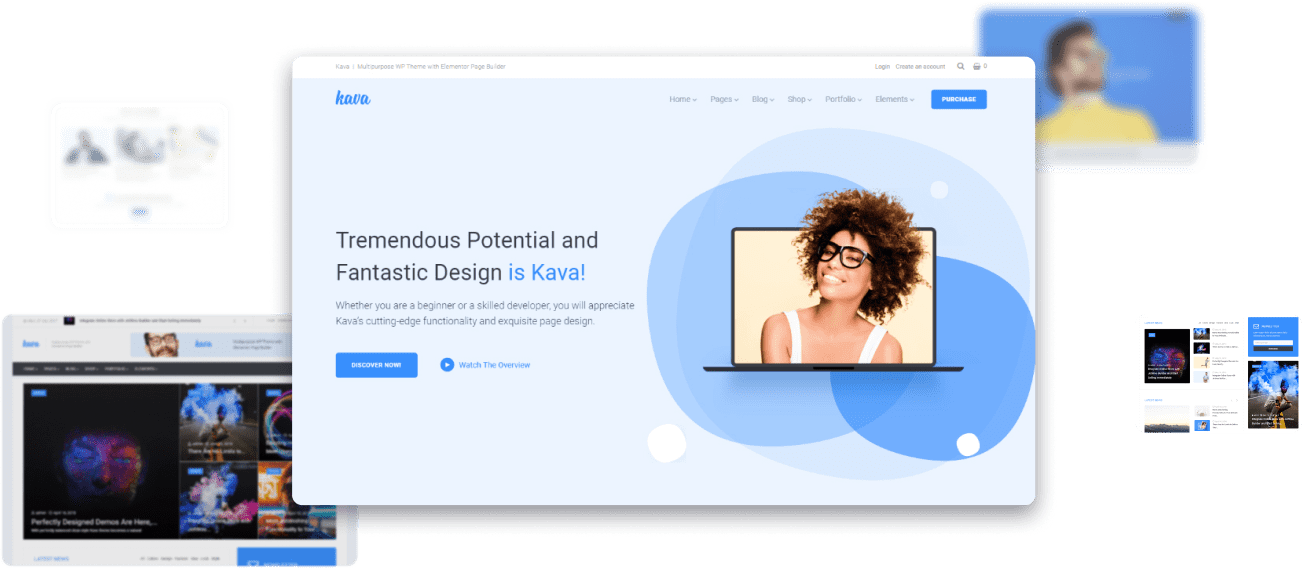 This is a great free WordPress Theme that can be adapted to any type of site. Kava is a multi-purpose template and with it you can create a blog, business sites, company sites, gym, cafes, portfolios, agencies and quality e-commerce websites. It has pages such as blog, teams, portfolio and services, as well as ready-to-use sections of the homepage. Kava is fully responsive and perfectly compatible with any mobile device. In addition, the theme includes enough built-in plugins to help you easily create and launch the site. Among other key features of this high quality Kava WordPress Theme are also available:
different

masonry

layouts,
fully flexible page layouts,
more than 50 different layouts,
fully responsive and adaptive,
the Elementor

Page Builder

,
is fully based on WordPress Live

Customizer

, which allows you to customize pages and records online,
detailed documentation,
professional technical support,
support for various WordPress plugins.
You can easily install, configure and create a website using this amazing theme.
---
Free WordPress 5.x Theme offers a minimalist, professional and elegant look. It is designed for all kinds of sites, from legal sites to fashion blogs. The conservative, but at the same time impressive design of the site will reflect the status of the company and form a positive perception of the brand. Menu and site navigation is designed so that the client gets acquainted with the specialization, range of services and advantages of the company. Free WordPress 5.x Theme is quite simple and functional. It comes with the set:
Blogging;
Multi-purpose admin panel;
Easy installation;
Posting feedback from clients;
Technical support;
Optimized source code and convenience for

search engines

;
Simple design;
Easy

navigation

;
Feedback and comments system;
Integration with Google fonts to create elegant typography;
Cross-

browser

;
Responsive and adaptive design.
To make your page beautiful and convenient, you may also use custom widgets. You can easily install, customize and create any type of site using this gorgeous theme.
---
If you need to present your artwork online with a well-defined set of features, the free Melissa theme is a perfect choice! This WordPress theme has been recognized as reliable and effective, and there are good reasons for that. It can be used for almost any website you want, and it is exactly what you need to create an amazing portfolio. This theme includes a wide range of different options: a larger number of ready-made templates, a lot of options for the portfolio, several demo layouts, different types of galleries (carousel, slider, isotope, accordion). This adaptive theme, prepared for Retina display, is installed with one click. From other elements it is necessary to enumerate more than 700 Google fonts, and different styles of the footer. Melissa also comes with full support and documentation. High quality code, lots of items, free updates, and screen options that let you create a stunning portfolio online and help present your creative work in the best way!
---
Catwalk is a theme WordPress, specially designed to create sites for any fashion company, model agency and others. It has a full-screen layout, animated effects, a flexible appearance that works perfectly with built-in plugins, and other additions from WordPress. It has a clean and minimalist look that highlights each of your models. It is built using HTML5 and CSS3 and is optimized for various search engines. It uses an advanced configuration panel where you can change the layout of headers, select a homepage, change theme details, set font styles for the title, menu, set the body of your website and many others. Your HD images will look the same on all your devices, giving your visitors a unique viewing experience. Also Catwalk theme will be perfectly displayed in any popular browsers, due to cross-browser. Built-in configuration options panel will help you fine-tune the appearance of your site. It also initially includes a Visual Editor plugin that will help you customize the theme and look like you always wanted.
---
Template Colibri allows you to configure the site as flexible as possible, as it is a multi-purpose theme with which you can create powerful sites. This template is suitable for creating an entertainment site, creating a site with recipes or restaurants, developing a site portfolio, and other purposes. The theme has the following options: background video, slideshows, customizable content in the header of the site, which will help you create a site that will be out of time. The theme is adaptive and displays correctly on all devices.
Among other features of the theme included:
the ability to set your own

logo

,
customizable

header

and menu,

WPML

plugin

that allows you to translate your site into any language,
a system of comments and feedback,
powerful

SEO

optimization,
the

parallax

effect,
clean and valid

HTML

code,
professional technical documentation,
the constant tech support,

media

and video library.
Each section of the theme is carefully designed to create a beautiful website with an intuitive interface. It is fully based on WordPress Live Customizer.
---
This is a fantastic and great template for a consultant in finance, investment and any business area. The template, which is originally designed for a large enough site, for example, a company engaged in business consulting, investment and similar areas. Bright and at the same time strict design combines perfectly because of the modern block layout. Inside pages – team, portfolio or cases, contacts, blog are immediately provided and prepared. Optimization for search engines will help to quickly deploy a resource through the effective use of natural traffic. User-friendly scrolling is included. Globaly also has integration with social networks, Google fonts and maps. In addition, the theme is cross-browser and fully adaptive. Responsiveness allows you to browse the site on any mobile devices and tablets. WPML, Retina and ECWID are plugins that were originally built into the Globaly theme. When you download, you also get detailed documentation. If you have any questions related to Globaly theme, you can contact 24/7 technical support from TemplateMonster.
---
Calio is an ideal solution if you are looking for a multi-purpose theme for your website. Multi-purpose theme is convenient because using this template you can create any type of site. And Calio is exactly that theme. The template includes the following pages: home page, about us, clients, news, contacts. All elements of this site you can change and customize for your own needs. In addition, Calio includes the following features:
built-in plugins (Retina,

WPML

, ECWID, Cherry plug-ins),
Elementor

Page Builder

which makes it easy to work with the configuration of various elements of the site,
Live

Customizer

(real time site editing),
built-in calendar,
integration with Google fonts, and the result is a great and extraordinary typography,
search, registration and

login form

,
the feedback system,
compatibility with the latest versions of WordPress.
In addition, Calio is constantly updated and improved, which makes it even better to use it every time.
---
An excellent animated template for landscape design, and you can both offer the services of the designer and sell: the plants themselves, specific equipment and much more. Infographics deserves special attention, which will demonstrate your success and show the number of projects, as well as an advanced gallery for portfolios in picture and video format. Among the useful plugins: WPML – is used for high-quality and fast translation of all the information on the site, and as a result, attracting a wider audience, MailChimp – for automatic sending of messages, Retina – for high-quality display of all images on your site. You can also add videos to the background. And in addition, use the parallax effect. And it will surely surprise your audience. It supports the option to change all the details, including the header and footer, adjust the color scheme in a few clicks. The site with Energico theme is fully ready for search engine optimization. Many internal pages and blocks that can be modified by Elementor Page Builder. There are calendar, day and time entries, customizable contact forms. Energico theme is made by professionals, it downloads quickly, looks great on any mobile device.
---
Free themes
Paid themes
Mostly free themes include a certain number of built-in plugins. And often it is the same plugins. That is, in order to expand your site and add more features, you need to look for additional plugins.
Paid themes are usually supplied with plugins. So, if you, for example, are going to create an online store, then you do not have to look for some plugins that implement the features you need. Everything will be included in the theme.
Free themes also already include demo versions. At least demos of free themes are available on the TemplateMonster

website

.
Paid themes can be easily selected and demo versions can be viewed.
The main advantage is the price. More precisely, its absence. It is completely free. All you have to do is download and install the theme.
Payment for a premium theme can be made either once or periodically.
It is not always possible to hope for developer support when using the free WordPress theme. But TemplateMonster always provides technical support regardless of what the theme is.
Rapid reaction to detection of some errors in the theme.
In fact, the requirements for free WordPress themes are often much higher, as all the themes available on the official WordPress list are carefully selected. Free templates are checked for code, standard features,

HTML

and CSS quality, security of use and so on.
Can't always be tested. And apart from that, themes can be with poor code. Sometimes you may get a premium template that looks good, but due to low standards for code it is not compatible with some plugins. This is due to the fact that such templates on different sites, unlike the free ones, not always pass such a rigorous test procedure.
Although free templates often support most standard WordPress features, many do not offer additional features like additional buttons, landing pages and so on.
Template developers often try to provide the client with as many functions as possible for a lower price. You can get such settings as the creation of pages in the constructor drag and drop, shortcodes, unlimited choice of color schemes and multi-templates, which have several different design options. But not always these features can work perfectly.
Free templates due to their freely used often by a huge number of owners of sites and blogs because of which your resource will not stand out by any unique design.
Due to the fact that the theme paid, there is a chance that you can stand out among others using very unusual, and extraordinary theme.
---
FAQ
Where can I get free WordPress themes?
Free themes can be found everywhere on the Internet. The most important thing is not to download any kind of viruses along with the theme. So I recommend you to use only proven resources. For example, TemplateMonster or the official WordPress site. In this selection of the best free themes you can find both unique and extraordinary templates from these two resources.
What are the best free WordPress themes?
How can I get free themes for TemplateMonster?
You just need to visit the official TemplateMonster website. Next, among the huge number of WordPress themes to choose the one that best suits your purposes. Next, I advise you to check the functionality and general view of the theme. After that, download and install the theme on your computer. And that is all! Next, you can easily begin work on the creation of your website.
Are WordPress Org themes free?
Most themes from the official WordPress website are free. Most of the paid themes are often listed in the description for the free template. Or the description of the free themes indicates that it is a trial version for a certain amount of time.