How to back up database with GoDaddy
This tutorial will show you how to back up a database using GoDaddy hosting control panel.
How to backup database with GoDaddy
1. Log in to GoDaddy hosting control panel and go to the Databases tab. Then click the MySQL icon.
2. Locate your database and click the 'Actions' button next to database name.
3. Select the 'Backup' option in the drop down menu.
4. You will be able to see the backup file name and its location.
5. Press the 'Ok' button to start the backup.
6. Once backup is done, use the FileManager tool to access it.
7. Open the '_db_backups' folder on your server. You will find the database backup file inside. You can download the file on your hard drive.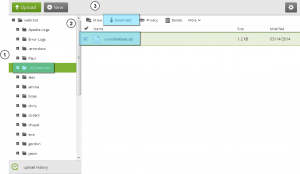 Feel free to check the detailed video tutorial below:
How to backup database with GoDaddy