This tutorial will show you how to customize the post date format in WordPress.
WordPress. How to change date format
The date formatting option is available through the WordPress admin panel.
1. Go to Settings->General.
2. You have several default date formatting options: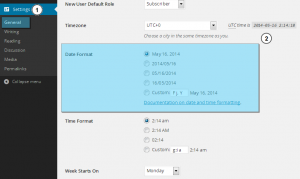 However, in case the default options are not suitable for your needs, you are free to create the custom date output. Select the Custom radio button and in the available field input your date format.
You can learn more about the possible format option using the PHP manual, WordPress codex and the following table:
Here are some examples of date format and resulting output.
F j, Y g:i a – November 6, 2010 12:50 am
F j, Y – November 6, 2010
F, Y – November, 2010
g:i a – 12:50 am
g:i:s a – 12:50:48 am
l, F jS, Y – Saturday, November 6th, 2010
M j, Y @ G:i – Nov 6, 2010 @ 0:50
Y/m/d \a\t g:i A – 2010/11/06 at 12:50 AM
Y/m/d \a\t g:ia – 2010/11/06 at 12:50am
Y/m/d g:i:s A – 2010/11/06 12:50:48 AM
Y/m/d – 2010/11/06
Feel free to check the detailed video tutorial below: