How to change WordPress theme
WordPress is an exciting content management system (CMS), that is a perfect choice not just for professional web designers, but for amateurs as well.
No wonder, this incredible platform is used on millions of sites across the world.
The main benefit of WordPress is that it is free, and open source that makes it really easy to find, use and edit the website to your needs.
In fact, anyone, who does not have experience in basic HTML or CSS knowledge, can maintain a website without any issues.
Moreover, possibility to use default WordPress themes or upload new ones is one of the most prominent factors of WordPress, as it allows users to have the ready to use the framework with the simple click of a button.
Let's overlook a few easy steps on how to change themes via admin panel.
First of all, login to your WordPress admin page.
After that, navigate to Appearance -> Themes tab.
Here, you can see all the themes that are currently installed. Usually, there are three default templates: Twenty Fifteen, Twenty Sixteen, Twenty Seventeen.
In order to choose another default theme, just click Add new theme button.
Select any theme that catches your eye, and click on the install link. We installed Hana theme (one of the available free WordPress themes).
Also, you can upload custom templates using the Upload theme button. For example, we uploaded an exiting Arnatera theme (created by Zemez studio).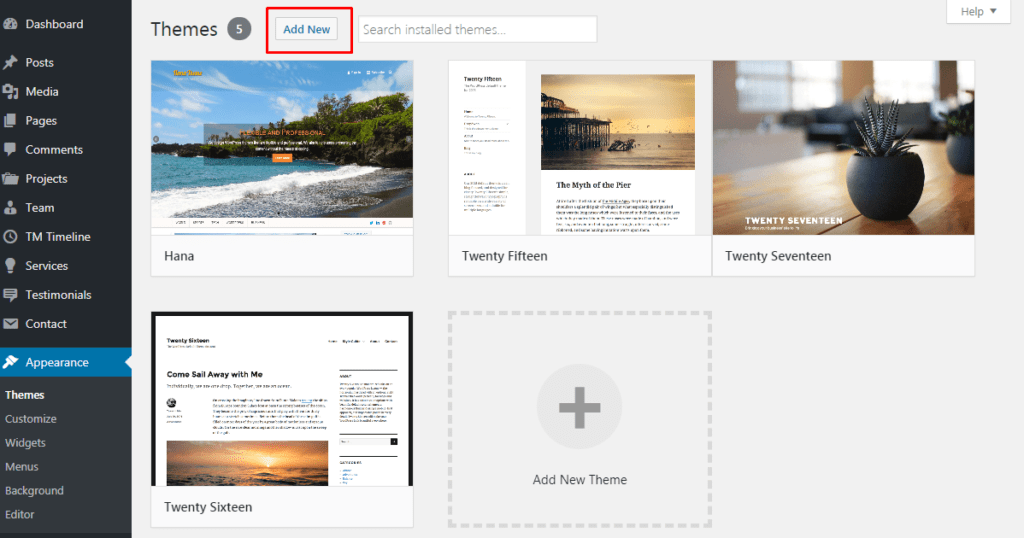 Now, in order to change one theme to another, just hover over the needed theme and click Activate.
My congratulations! Now, you can start doing magic with your website!