This tutorial will show you how to create a MySQL database with GoDaddy.
How to create MySQL database with GoDaddy
Log into your GoDaddy hosting Control panel.

In the appeared window you will see a list of databases available. Click "Add" button to create a new database.

Input your database details:

After entering the database details, click "OK" button.
Note: Wait 5-10 minutes while your database is being created. You can check the status of your database in the database list. Pending status means that database is not ready for use yet.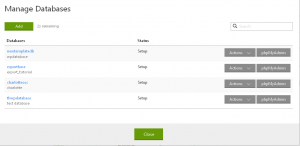 Feel free to check the detailed video tutorial below:
How to create MySQL database with GoDaddy