Joomla GoDaddy. How to install template sample data
This tutorial shows how to install Joomla template sample data to GoDaddy hosting server.
Template sample data allows you to make your website appear as template preview page. Do not instal sample data if you have a live website with your content.
First of all you need to log in to your GoDaddy account and access hosting control panel.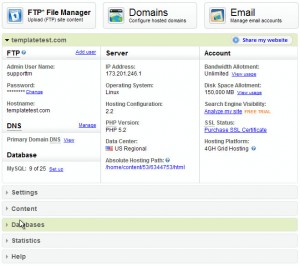 Then switch to Database tab and click MySQL icon
Select your Joomla database from the list and click Manage via phpMyAdmin
From the left column select your database
Please note: importing SQL file to information_schema database can harm your website.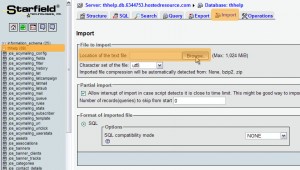 From the top menu select Import and browse for the dump.sql file in the template sources folder. Select dump.sql file and click Go.
Then you need to upload sample images from the template sources/to_the_root_folder directory to the Joomla root on your server.
We recommend using FileZilla FTP Client to upload sample content folders. Open template sources/to_the_root_folder directory and upload media and images folder to your Joomla installation root. Learn more about uploading files to the hosting server
In case you want to install sample modules you need to instal all ZIP archives from the template sources folder using Joomla administration panel > Extensions Manager. And upload sources/to_the_root_folder/modules folder to the Joomla installation root.
For more details please check the video tutorial below: