Hello, this tutorial will show you how to edit Sale/New labels text in OpenCart templates.
A newly created tutorial will be a good guidance for those who wants to use different labels for the products.
In order to change sale/new text for the featured/special products or on a category page, please, follow the steps below:
Open the tm_stickers.ocmod file from your template package \themexxx\themexxx-extensions folder with any text editor and use a search tool in order to locate a label you need to change.

If you want to change label text for the featured products, you need to amend the following code:

<file path="catalog/language/en-gb/module/featured.php">
	<operation>
	<search><![CDATA[
	$_['text_tax']      = 'Ex Tax:';
	]]></search>
	<add position="after"><![CDATA[
	$_['text_sale']      = 'sale';
	$_['text_new']      = 'new';
	]]></add>
	</operation>
</file>

This part of code generates labels for English language, featured module.

Change "sale" text to any you want and save the file.

Then we would need to apply a new modification from OpenCart admin panel.

Login to your OpenCart admin panel. Navigate to Extension Installer -> Modifications section.

Go to Extension Installer section and upload the tm_stickers.ocmod file you modified.

Don't forget to clear cache and refresh modifications. Reload your store page to see a new title.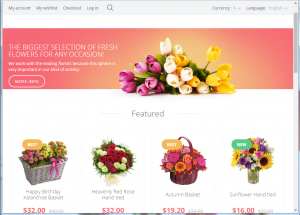 Thank you for reading this tutorial. Now you know how to edit Sale/New labels text in OpenCart 2.x templates.
Feel free to check the detailed video tutorial below:
OpenCart 2.x. Edit Sale/New labels text
If you happen to be looking for top-notch templates for your site, check out Best OpenCart Themes 2017.