In this tutorial you will learn how to change default products listing view in VirtueMart 2.x templates
Note, this tutorial is applicable to the VirtueMart 2.0.2-VirtueMart 2.0.18 templates only.
In this example will change the products listing view from 1 – 2 – 3, to 3 -2 – 1, in other words, will make third listing default one.
We need to edit the components\com_virtuemart\views\category\tmpl\default.php file
Find the following piece of script: id="tabs"Swap "first" and "three" classes

After that is done, we should replace content of "product_list" div with content of "product_list3" div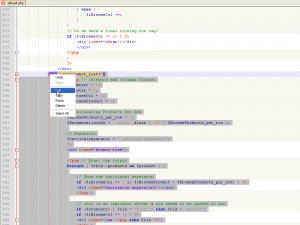 Save this file and reload your site to see the changes.
Feel free to check the detailed video tutorial below:
VirtueMart 2.x. How to change default products listing view