This tutorial will show you how to create contact form in your language, using Contact form 7 plugin.
With bundled translations, you can create contact forms in different languages very easily.
To obtain a translated contact form, simply click the Add new link in Contact settings, and select the language from drop-down menu.
You should copy the code, generated by Contact form 7 plugin (see screenshot attached) and paste it into your post, page or text widget content.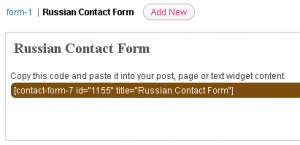 Let's create a new page for our new contact form.
Navigate to Pages => Add new.
Add your new code into the HTML tab, while editing your page content.
Go to Appearance => Menus and assign new page to your header menu. Refresh your site to see the changes.
We have successfully created contact form in Russian language. Let us know if you have any questions.
Feel free to check the detailed video tutorial below: