This tutorial will show you how to add post password protection in your WordPress template.
WordPress. How to add post password protection
1. Navigate to Posts->All posts section;
2. Edit any of your existing post or create a new one;
3. Locate Publish box on the right side of your screen;
4. Use 'Visibility: Password Protected' option and set a password for your post.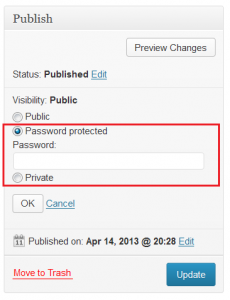 5. Do not forget to save the changes by clicking Update button.
Password has been successfully set for your post.

Feel free to check the detailed video tutorial below: