Our Support team is ready to present a new tutorial that will show you how to fix image upload issues in WordPress.
WordPress. How to fix Image Upload issue
For example, you are trying to upload an image to your media library, post or page, but getting the following error message:
Unable to create directory wp-content/uploads/2014/10. Is its parent directory writable by the server?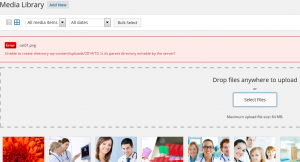 You will need to check the files and folders permissions on your server. The recommended permissions are 755 for folders and 644 for files.

The error you are getting is most likely caused by the wrong permissions for one of the folders.

You can manage permissions via FTP. Please see the following instruction on how to do this.

You can also easily change the permissions in your hosting cPanel.

Locate the folder with the wrong permissions and change them to recommended ones.
Feel free to check the detailed video tutorial below: