This tutorial will show you how to work with the slider in Joomla 3.x template.
Joomla 3.x. How to work with slider
Editing existing slides
1. Navigate to Content->Article Manager menu.
2. Articles with slider images usually have the Slider category. Note that the category name can be different in your template.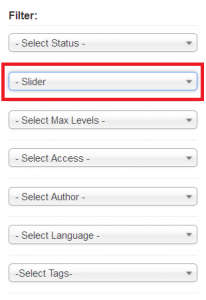 3. Here you can find all of your slider articles.
4. Open any item with the slider to edit it. Change the title which will appear as slider text and content.
5. Use the HTML button to edit the slider content in html view.
Adding a new slide
1. Navigate to Content->Article Manager->Add new Article.
2. Specify the slider title, assign it to the 'Slider' category, and fill in your content.
3. Upload your image using the 'Full article image' field.
4. Save the changes.
Editing the Slider module settings
1. Navigate to Extensions->Module Manager menu.
2. Our slider module is called 'Image Swoop', but it may differ in your template. Open this module for further editing.
3. Navigate to the 'Options' tab to configure the slider module settings.
4. Set the proper value for the Number of Articles option in your slider module to make your new added slide appear.
5. You will find a huge variety of slider settings under the 'Image Swoop Settings' tab.
6. Hover over any option name to get its full description.
This is the end of the tutorial. Let us know if you have any questions.
Feel free to check the detailed video tutorial below: