WordPress. How to delete WordPress theme
This tutorial will show you how to delete the installed theme through a WordPress dashboard and FTP manager.
WordPress. How to delete WordPress theme
Removing theme through a WordPress dashboard.
You can't remove an active theme, so first activate the default WordPress theme (Twenty Fourteen) to be able to delete a theme required.

Click the deactivated theme to see it's details and click Delete button in the right bottom corner of it. Now your theme is successfully removed:

Now click the deactivated Cherry Framework to see it's details and delete. Click Delete button in the right bottom corner of it. Your Cherry Framework is successfully removed as well now.
Also, you can delete an installed theme through your FTP manager.
Using the FTP manager log into your server and open the WordPress installation folder.

Go to wp-content/themes folder. Delete both your theme and cherry Framework folders.

Now go to wp-content/plugins folder. Delete all the cherry plugins.
Your theme is successfully deleted through FTP manager now.
Feel free to check the detailed video tutorial below:
WordPress. How to delete WordPress theme
If your website already has an admin panel and you want to work on its WordPress design using, for example, design wordpress themes, review our Bootstrap Admin Themes.
Now you have been provided with the tutorials on how to delete the WordPress theme. As you can see, it is possible to accomplish this task on your own. If you wish to focus on running your daily priority tasks and let the professionals take care of your site, that is certainly a perfect decision. Being a businessman, it is rather inefficient to support a WordPress site on your own. Instead of the time spent on studying the technical base, you can concentrate on business development and increasing your income. Delete WordPress theme, add new functionality, improve loading speed – a full stack of services is available today.
Any website is the same machine that requires constant care and maintenance. If you do not change the oil in the engine, soon, your favorite car will turn into a pile of useless metal. The same can be said about the website. If you do not maintain your web resource on a regular basis, it will become just useless and destroy your client base. Whether you need to remove the WordPress theme or update your web resource, let professionals work on these issues.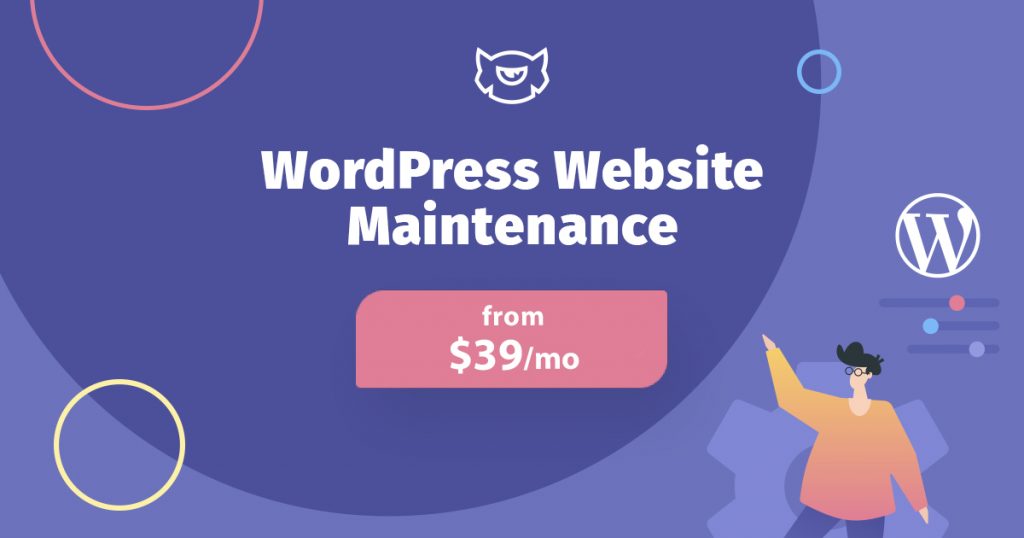 WordPress Website Maintenance & Support from TemplateMonster is an efficient solution to make sure your website is relevant, updated, and safe 24/7. If you are an owner of a WordPress website, do not miss an opportunity to take advantage of this subscription offer to get a top-notch WordPress Website Maintenance & Support from TemplateMonster.
The question of how to delete the WordPress theme will never be a question anymore. The specialists with 15+ years of experience will do their best to provide you the highest level of customer assistance at an affordable price.
Except for WordPress uninstall theme, you will get many more benefits like:
usability, conversion, and

SEO

boost;
improving your

website

performance

;

website

security and protection pack;
regular backups;
hassle-free monitoring 24/7.
Do not hesitate to entrust your website to TemplateMonster. You do not need to dive into the technical aspects like how to remove themes from WordPress when you have the 24/7 professional support of your web resource.
Managing a website with TemplateMonster website maintenance services
has never been easier. Let's check how it works.
Pick up and subscribe to the best plan for your needs. You will get a choice of a monthly and a yearly subscription for various budgets.
The support team will contact you once the plan is purchased. They will collect the information about your site, all your needs, and your business preferences.
The support team will initiate

website

maintenance procedures while you will enjoy your life.
Compare the essential and premium plans.
Essential monthly plan ($39/month) offers performance check & optimization, 24/7 uptime monitoring, monthly activity reports, and much more. Premium monthly plan ($69/month) will work better for those who are interested in SEO consultancy and basic setup, security protection, daily backups, and etc.
If you prefer annual subscription plans, you can get Essential Package for $389/year and Premium one for $689/year.
No need to learn how to delete the WordPress theme on your own when you may have a personalized approach to your website and first-class services.