2 Fitness Instructor PowerPoint Templates
Fitness Instructor PowerPoint Templates
Making a business presentation can definitely be a really challenging thing. You need to have the right format, the right graphics, the right content, and much more. Getting people onboard with your fitness business is a really hard thing to accomplish. It takes a really special presentation to get people to trust you over the competition. Well, with fitness PowerPoint templates you can make the perfect presentation every single time.
Best Premium Fitness PPT Templates
These templates for your fitness business, or just for any standard presentation purpose, will provide you with everything you need for an awesome viewing experience. Not only will these themes and templates help you make a killer presentation, but they might just allow you to get a few extra customers too.
There is a good reason why you should use a great PowerPoint presentation to pitch your business, your concepts, and your products. This is because a PowerPoint presentation is much more engaging than just some words on paper, and more so than your own talking as well. The images and visuals that you can put in a presentation work to strengthen your own ideas and arguments. Showing people your gym or fitness equipment, along with some big muscle men, will make it much easier to draw in some more business for yourself.
The fact of the matter is that a great fitness PowerPoint presentation, especially when you use these themes, will help you out big time. One of the best parts about these templates is that they feature a really easy to handle customization process. You want a good PowerPoint presentation, but you don't want to have to spend countless hours making it. The point of your presentation is business and sales, not the presentation itself. These templates allow you to quickly alter the theme, format, and everything else about your presentation. You can add the fonts, graphics, links, and everything else you want in a matter of minutes. It is as simple as that.
There is also the fact that fitness PowerPoint themes come with free 24/7 lifetime tech support. Making a PowerPoint presentation for fitness purposes, or for anything else, can be pretty difficult no doubt. Sometimes things might go wrong and sometimes you might just not know how to do something. The point is that whenever you need help, you can simply call the support line for immediate assistance. You don't need to struggle and deal with pointless issues when there is a team of experts ready to help you out.
With a great fitness PowerPoint presentation, you can elevate your business, your goals, and your profits to the next level. Each and every single slide is a new way for you to advertise your business. It is a great way to show people what you are all about. People love images and slideshows, which is exactly what you can give them with these great themes. Our world is all about technology, so why not take advantage of that tech to further your own fitness business cause? Check them all out at TemplateMonster today!
Buyers are not Indifferent to the Products They Purchase
Brilliant template. Served us well and very easy to use. Highly recommended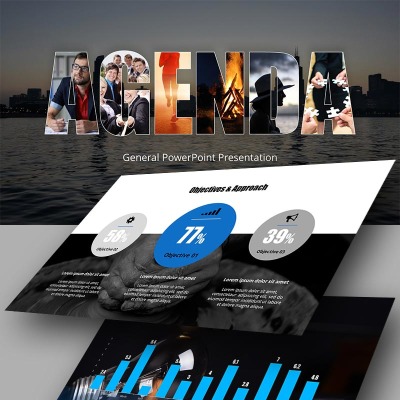 Agenda PowerPoint Template
PowerPoint Template