MotoCMS 3 E-commerce Templates
Build Fast and Functional E-commerce Websites with Responsive MotoCMS 3 Templates from TemplateMonster

TM Banners MotoCMS Ecommerce Templates
Recently Added MotoCMS 3 E-commerce Templates
All Features You Need
are included in MotoCMS 3 E-commerce Templates
Responsive Layouts
The MotoCMS 3 E-commerce templates look great on any device. Your website is automatically responsive with any of these pre-made designs.
Fast Loading
Because of the exceptional system architecture the E-commerce websites powered by MotoCMS 3 are fast and take very little time to load.
It's Drag'n'Drop!
MotoCMS 3 E-commerce templates have a very exclusive feature – they all include a Drag&Drop admin panel. It makes it really easy to manage your website content!
Fantastically Functional
Everything you need to start an online store is here: feature-rich product catalog, secure payments, advanced tax settings, discount system, sales statistics and reviews functionality.
Easy Media Management
Upload any media files for your website using a Media Library. You can have all your files organized and filtered in a just a couple of clicks.
2-Minute Installation
You simply need to upload the template files, create a database on your server and you're ready to launch the automatic installation. A few minutes and you're making your website!
MotoCMS 3 E-commerce Templates
If you are looking for a premium E-commerce system, take a look at the new line of E-commerce templates powered by MotoCMS.
Developing and maintaining websites built from these templates is easy and seamless because of the very user-friendly admin panel. By simply dragging and dropping items you create your fully-functional website. In addition to this, the MotoCMS 3 templates are fully compatible with all mobile devices, and they are lightning fast – 40% faster than websites built with the most popular industry-standard builder.
Running an online store becomes a pleasure with MotoCMS 3 templates, because you have all the tools to view statistics and track your orders history. Manage the customers' accounts and their orders, accept online payments, collect taxes and run sales all in one place. MotoCMS 3 is taking care of the review system as well, because customer reviews are efficient sales drivers. Let your customers write reviews for the products they're purchasing!
More than 1,500,000 customers served
Read what people say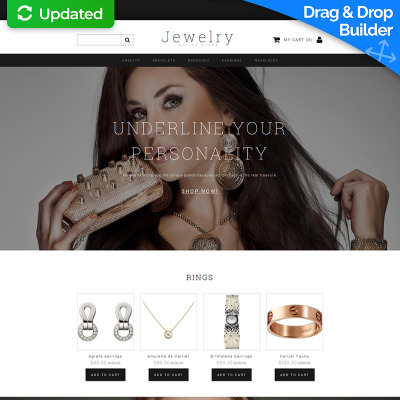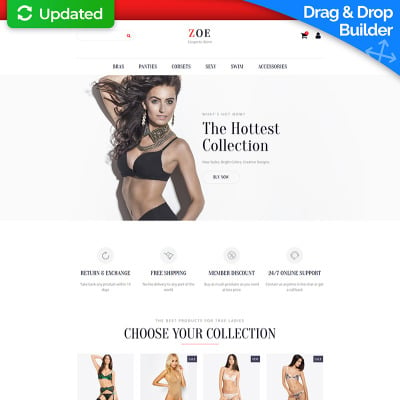 Zoe Fashion Responsive MotoCMS Ecommerce Template #61999
Reviewer: Eva Imrichová
Posted:
Zoe is a great responsive template to start any ecommerce business. I'm not an expert and know nothing on website building, so it's perfect for me as a newbie. I like everything in the admin panel. Besides, I can ask for help anytime thanks to the great customer support.