Magento Themes
Best Premium Magento Templates from TemplateMonster

Recently Added Magento Themes
Fits for drug store, pharmacy, medical, fashion and beauty, electronics, business and services, design and photography, home and family, computers and internet websites.

bikeshop, motorbike, bike, cycling, bicycle, bike store, bike shop, motorcycle store, motorcycle parts, motorcycle accessories, motorcycle shop, biker store, biker shop, and sports & outdoors websites

This template was custom-made for climber's gear, travel equipment, sport, outdoors and travel, fashion and beauty, electronics, business and services, design and photography, home and family, computers and internet sites.

Grab this template for tools and equipment, industrial, construction, home and family, fashion and beauty, electronics, business and services, design and photography, home and family, computers and internet websites.

This theme was thoughtfully crafted for accessories, fashion and beauty, electronics, business and services, design and photography, home and family, computers and internet sites.

nutrition, nutritionist, healthy food, supplement, supplements store, supplement store, vitamin store, nutrition store, sports nutrition store, and nutrition shop websites.

tobacco, cigarette, smoking, pipe tobacco, chewing tobacco, cigar, nicotine, and smoking supplies websites.
Popular Magento Categories
Key Features
You'll love these powerful eCommerce features of our Magento themes
Responsive
Fully responsive designs that work on any device, screen type and resolution. These themes eat Retina displays for breakfast – insane image quality, combined with impeccable design come together to offer aesthetically pleasing user experience for your visitors. Every element that makes up the page is fully responsive: from buttons to image sliders, etc. Mesmerize visitors from any device.
Well Documented
Say 'no' to confusion. Our documentation doesn't give you a headache. All-encompassing installation and theme editing instructions that you'll find easy to use. Our documentation also includes details about the extensions that come with the theme, so you could easily incorporate them into your store. Making changes to your store's look, feel and functionality is a piece of cake with these documents.
Translation (Localization)
Our Magento templates are translated into 4 languages: English, German, Spanish, and Russian.
List/Grid Category View
Let your customers choose the preferred viewing mode for products and categories on your site: list, grid, etc. Luckily, our flexible themes allow them to do just that.
Responsive (Touch) Product Carousel
Our Magento templates don't make any compromises when it comes to touch displays. You can arrange product images in a responsive gallery, which allows your visitors to browse products using touch functionality of their smartphones and other handheld devices. Let them swipe their way to a purchase:)
Icon Fonts (Retina Ready)
Icon fonts contain symbols and glyphs, but you can also use CSS to change their appearance. Since these are vector images, you get crisp and scalable font icons, which look amazing on Retina displays. With these you can take on any PPI or any display.
Magento Themes
Magento themes are ready-made layouts for online stores operating on the basis of Magento eCommerce platform. A Magento theme download package contains the files, graphics, modules and rich documentation to help you build a web store. Themes for Magento allow making modifications to the look and feel of an e-store, and have the multi-language support.
Discover an amazing variety of best-selling eCommerce layouts by TemplateMonster.
Magento is an open source platform for eCommerce businesses. This means that you can experience all of its basic functionality for free with the Community Edition of Magento. This option is perfect for small and medium stores. Magento's Enterprise Edition is perfect for large stores, with over 10,000 SKUs in their inventory and starts at over 10 thousand dollars per store.
The default Magento theme is very basic, being a part of a free product. It lacks certain functionality and its design is very bland. That's why Magento themes by TemplateMonster are a great investment, as they offer tons of functions, visual options and design layouts. Still not sure if one of our Magento themes is the right choice for your store? Here're some important features of our products that you should keep in mind:
– Responsive design – your store will be perfectly rendered on any screen of any size and on any device. Responsive page elements ensure crisp and pleasant browsing experience for all of the device range that your audience employs.
– Simplified process of installation – literally anybody can install, customize and operate our Magento designs with the help of explicit and detailed documentation that is supplied with every layout. Feel like a tech guru with our detailed step by step installation guidelines!
– Advanced product presentation features – allow your customers to pick between List and Grid category views; spice it up with a responsive (touch-friendly) product carousel.
– Multi-language support – all of our Magento website layouts are translated into 4 languages: English, German, Spanish and Russian. This way you can cater to a wider international audience.
Magento represents the biggest eCommerce community in the world. That's why we couldn't stay away from it, knowing that there are plenty of stores that constantly look for better design and functionality within their themes. Our selection of premium Magento designs is here to help them in their quest.
Our Free Magento 1.8 Bootstrap 3.0 Template is perfect, if you're looking for an affordable Magento test bed that's still feature-rich and easy to use. It's not intended for commercial purposes, so please keep that in mind. You can use it to test drive the basic functionality of our templates, before buying a full-fledged theme by TemplateMonster. Be sure to browse our professional Magento themes after you're done with this free product.

More than 1,500,000 customers served
Read what people say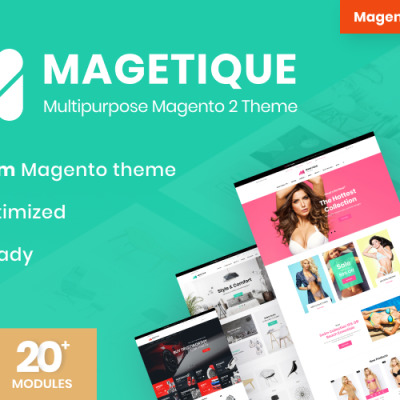 Magetique - The Most Comprehensive Multipurpose Magento 2 Theme #62000
Reviewer: Simon Adams
Posted:
As a designer, Magento is a pain because it comes from a functionality point of view, and therefore the design and layout has always come second. Digging into the css code and template files has been the norm for making a site look and function exactly how you want it to, but this new way of handling the theme design and layout is fantastic, making the customisation of the site easy and flexible. I can't say enough good things about it!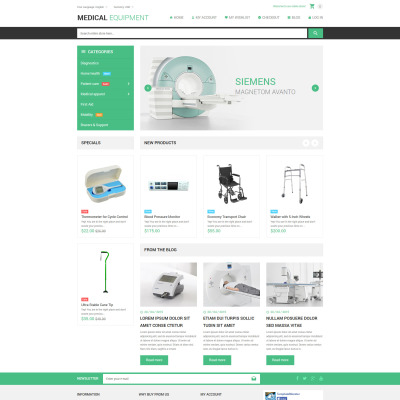 Medical Stuff Store Magento Theme #53806
Reviewer: pierre kovassi
Posted:
Great medical template. A template for every use on mecal concern the will brightena fantastic webste. I am waiting for another ocasion to purchase this temple and I recommend you to so. Pierre /oas-desgn.com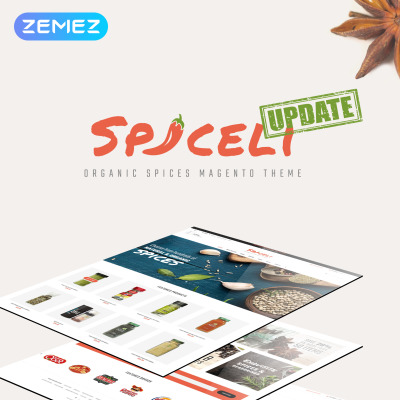 Spiceli Magento Theme #61194
Reviewer: Юрій Труфанов
Posted:
nice fonts and architecture, easy for understanding back-end, lot of fun while constucting your own buisnes.
Magento Templates from Template Monster
Magento is growing by date. That's why we wanted to make sure that your eCommerce experience with this platform goes as smoothly as possible. Our Magento themes are here to aide you with that. TemplateMonster's professional web designers are working tirelessly to deliver the best Magento templates for our audience. The philosophy behind these products is simple – deliver the best possible Magento templates, which unveil and reinforce all of the amazing features that Magento comes with. We're honored to be a part of the biggest eCommerce community, by contributing to the pool of available Magento themes. Looking for a solid design for your Magento store? Check out our list of Top 10 Magento Themes, which you should definitely consider.
What is Magento?
Magento is the biggest and ever-growing eCommerce platform in the world. Over the course of its history it had some major updates and features introduces, which make it one of the most versatile eCommerce solutions out there. It's scalable, it's reliable and it has a wonderful community. With Magento you can enjoy a variety of management, marketing, shipping and payment options that elevate your eCommerce experience to a whole new level. Get in charge of your business with this amazing platform.