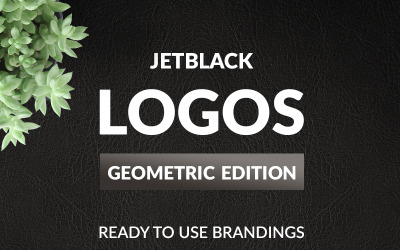 30 READY TO USE LOGOS – GEOMETRIC EDITION.An amazing brand don't need a lot of twaddle, a perfect styled font combination with an elegant icon is modern and meaningful. With this 30 ready to use logos, in beautiful jetblank, you can start so fast and easy to make your own brand. The kit includes directly 4 styles of each logo design (logo compact + logo wide + wordmark + icon = 120 designs).All used fonts are free and free for commercial use.To work with the files is really easy:
Open a logo file (AI, EPS or PSD)
Choose a logo
Look which font is required for your choosen logo (font pallet)
Download the required font(s) and install
Add your text to the logo
Copy your new logo wherever you want – to your business card, brochure, website, blog…
… and that`s it! You will do your new branding within less than some minutes! Have fun!
Exactly you will get:
30 individual logo designs . each logo with 4 styles (logo compact + logo wide + wordmark + icon = 120 designs) . all free fonts (free for commercial use)