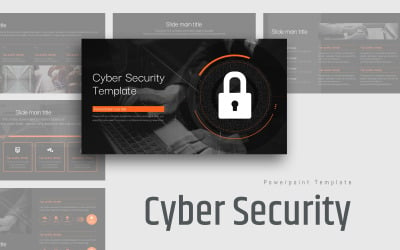 About 'Cyber Security PPT Template'This 'Cyber Security PPT Template' is a PowerPoint template designed to cover presentation topics related to city security. Gray and orange colors are well balanced throughout the template, and the simple design using lines makes this template look stylish. Also this template contains various types of diagrams, graphs, charts, and images which will help you deliver your messages in more effective way. Download this template and experience how a real well-made presentation template can help you.What's included in 'Cyber Security PPT Template'– Cover slide, table of contents slide, section dividing slides, inner slide, ending slide– Graphs, diagrams, images, icons, maps– 16:9 & 4:3 size PPT template in bundleRecommended Font– Darker Grotesque (Download link: https://fonts.google.com/specimen/Darker+Grotesque?query=Darker+Grotesque)
The template is designed using the recommended fonts, and you can download the font from the link above. The font is not included in the template file.
The template may appear different from the thumbnail image if you open the PPT file without the font installed on your PC.
Features– PowerPoint Version: Optimized for Microsoft PowerPoint 2007 and later version– Easy to Edit: Shapes and colors of all diagrams