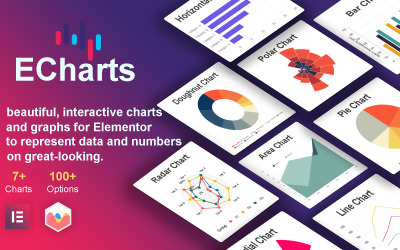 What is ECharts?ECharts is an Elementor add-on that helps to create a professional, interactive and beautiful looking charts and graphs for your website.Why Choose Our Plugin
Different Chart Types.
Live Preview on Page Builder.
Fully Responsive.
Highly Customizable(+100 Options).
Colorful Options.
Built on Chart.js Library.
Cross-Browser Support.
Usability Easy.
Detailed documentation.
Plugin Features
Chart Type Includes: Line, Bar, Doughnut, Pie, Radar, Polar, Area...
Customizable Tooltips(Show/Hide, Shared, Style).
Customizable Legends(Show/Hide, Position, Style).
Categories Configuration(Show/Hide, Percentage, Position, Rotation, Prefix & Postfix, Style...).
Axes Settings(Grid & Angle Lines, Title, Border, Labels, ...).
Chart Box(Show/Hide Card, Chart Title, Description, Style...).
Data Color (Different/Single Random Color or Personalized Color).
Multiple Datasets(You can set the number of datasets).
And More...
Updated