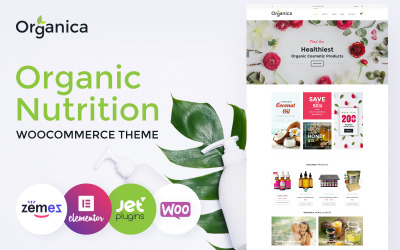 Organic design for organic storeWe have created a fresh theme for your online store. It will be suitable for different businessies that are connected with natural or organic products. Entering the natural cosmetics shop template you meet the scroll navigation with very fresh photos, that make the visitors feel like inside the real organic shop. Gaudy banners with super offers, which are disposed below, catch users' attention.Built with Elementor and Jet Elements widgets the theme looks both simple and modern. In natural cosmetics shop template you can find:
sliders for quick slides switching;
buttons which allow to cross the pages by the click;
portfolios for presenting your products by the categories;
star rating to show your customers' choice;
sidebars which highlight the important content;
linked social icons which open your social network accounts;
image carousels that show many pictures in one row;
and many other widgets.
It seems that this template has everything to be a good platform to use it as a store. Try it and convince yourself.From shop to blogThe design of our natural cosmetics shop template is very good for selling and includes lots of different