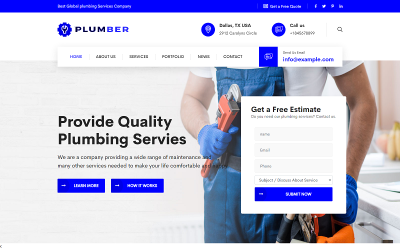 our client is happy. we have all kinds of maintenance services and we have done a lot of plumbing projects we have different client portfolio projects. we have clients review our work. our work includes all types of plumbing projects. we have all work according to our client. our client is satisfied our company work. Dependable & Sincere Company.Need plumbing Service & Maintenance Or Have. Our Purpose Provide Better Service to Client. Quality & Reliability is Our First PriorityOur Services Include:1-Industrial Plumber2-Leakage Pipe Repair3-Washing Pipe Repair4-Kitchen Inspection5-Toilet Pipe Cleaning6-Gas Pipe Leakage7-Kitchen Pipe8-Commode FixingFull Features List
100% Fluid Responsive
Home Page
About Page
Portfolio Page
Contact Page
Service Page
Blog Page
Tested on real devices
Working PHP AJAX Contact Form.
Flexible Layout
Flat, modern, and clean design.
Google Map with multiple locations
Google font
Quick, Dedicated & Professional Support
Well, Documented & More….