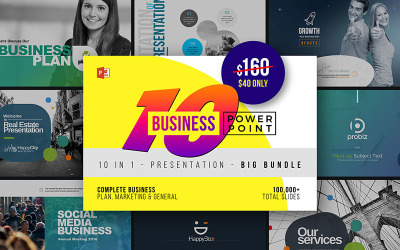 10 Best Business PowerPoint BundleBest for an agency or multi presentation needed business or person. Useful, Creative and Professional Business Powerpoint templates with high-quality design layout slides to captivate your audience.10 Unique Template - 100,000 Slides totalA value of $160 if you purchase separately.Get all these presentations with a low price, for only $40Live Previews:
ProBiz: https://youtu.be/Bx-kPe1j6Ac
HappyEstate: https://youtu.be/CmAoYt7FPqg
FotoImez: https://youtu.be/Duw-GFO-2Vk
BusinessPlan: https://youtu.be/ZpEPJGFpZtg
SocialMedia: https://youtu.be/Iav8bHbSlmw
CreatiPix: https://youtu.be/mf1aHA5aVvI
Creative: https://youtu.be/Jqw9BaS3Y4w
iOS-Pro: https://youtu.be/KUQcXGl-1eg
Freshy: https://youtu.be/tdY7sbmdfYs
Exa: This have not a Video; Sorry.
NOTE:
You need Microsoft Powerpoint in order to open or edit these Presentations Templates
ALL USED PICTURES ARE NOT INCLUDED IN THE DOWNLOAD
---Details per template:1. ProBizBusiness Plan & Marketing PowerPoint Template.
Item built on Real Business Plan & Marketing Topics
General (Logo, About, Presenter, Agenda, Objectives, Service, Approach, Team, History, Timeline, Vision, Portfolio, Contact, Location Etc.)
Infographics (Business Conceptual, Process, Layers, Tree, Mind Maps, Puzzle, Isolated, Photos, Data & Driven, Calendar, Smart-art, Product Schedule, Table
Business Plan & Marketing
Market Analysis & Report
Social Media & SEO
Maps (World, Globe, Country, US states etc.)
Mockups (Browser, Desktop, Laptop, Tablet, Smart Phone etc.)
Essential & Extra Slides (Coffee break, Awards, Touch in Social, Clients, Testimonial, Have a Question, Thank you etc.)
80,000+ Clean, Modern