2 Halloween HTML Website Templates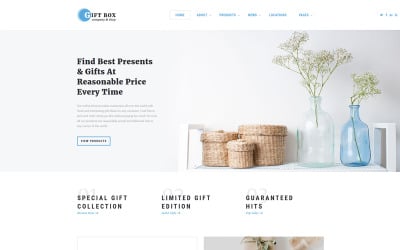 2 Best Halloween HTML Website Templates 2021
Astonish Your Customers With Halloween HTML Website Templates
As a site owner, you should offer your customers the best products, news articles, blogs, etc. Holiday projects are quite challenging to build from scratch without any assistance. After all, you need to plan the design, functions, and time searching for fonts, icons, images, etc. We will help you save time, effort, create a clear structure, and amaze your readers. For this, you will need Halloween HTML website templates.
Best Halloween HTML Website Templates
Holiday themes are great for a focused Halloween site. You may:
write interesting articles about the ideas of decorating pumpkins and Halloween Xmas trees,
advice on creating horror style for celebration,
make a collection of spooky baby costumes (zombie, batman, Dracula),
give examples of gifts, make-ups, decorations, food recipes, and much more.
You may have completely different projects, add various exciting details, and develop your business.
HTML Website Templates For Halloween Key Properties
Our powerful functionality allows products to be the best in their category. The developers are aware that creation shouldn't take too long, so all included features are easy to use and only make the job easier. So, our Halloween products include:
integration with Google fonts;
cross-browser;
responsive design;
SEO-optimization;
optimized code;
additional HTML pages;
dropdown menu;
professional technical support;
different gallery (slider, accordion, carousel, regular gallery);
social media integration;
search and contact form;
Bootstrap toolkit;
easy to customize elements.
Buy HTML Themes For Halloween Website
To get a new item, you need first to select it and add it to the shopping cart. Then you are given a list of services that may be useful in working with the site-building. Please choose one or several ones, or you can refuse them. In this case, pay for the purchase by filling out a form with your details. Also, remember about ONE membership. It is our successful offer. You pay a monthly/annual subscription and can use our premium products thousands of times for FREE
How To Add Image Logo To The Halloween HTML Website Templates With Text Logo
Watch the video to learn about adding an image logo. And if you thought it was a problem before, TemplateMonster will help you figure it out in minutes.
Halloween HTML Website Templates Q&A
Where can I find HTML website templates for Halloween?
Use TemplateMonster with an increasing collection of such goods. On the left sidebar, you may specify a topic, price, features, gallery type, code, etc.
Are Halloween HTML website templates responsive?
Yes, it's an important aspect, so all our offers have a user-friendly design. And as a result, your website will always look good on various devices.
Can I sell HTML themes for the Halloween website?
Become an author on our marketplace! Register on TemplateMonster, confirm your account, send work examples, and wait for our experts' approval. Then you can share your best projects with our clients.
Is it essential to be SEO-friendly for HTML website templates for Halloween?
Of course! It is the key to ensuring that your site will have high ratings in search results. So make sure you choose a suitable product that includes this criterion.