Email Verification PRO - Module for CMS PrestaShop
Sales: 0
Created: Oct 25, 2021
Updated: Feb 17, 2022
ID: 210171
This product is temporary unavailable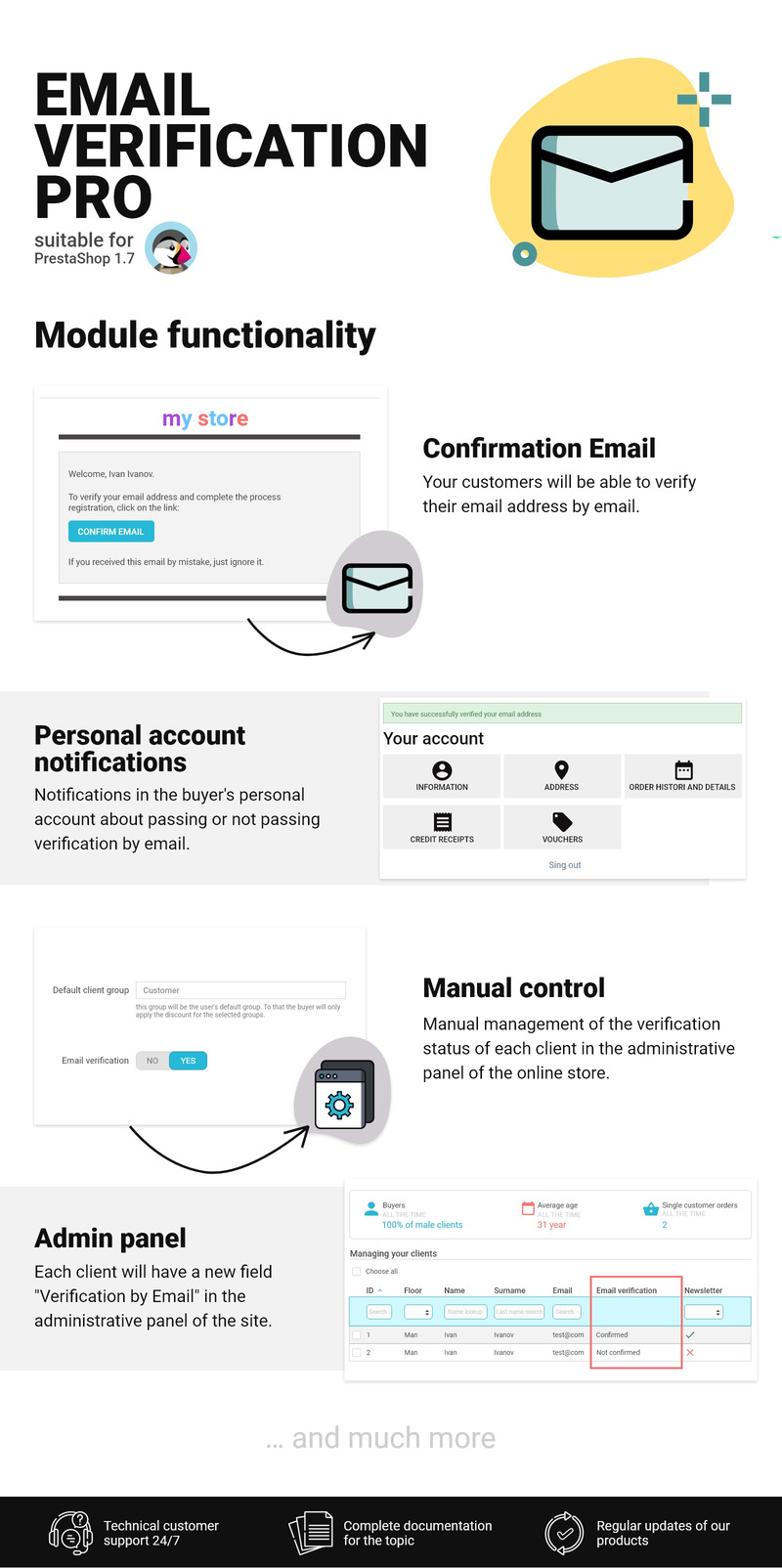 Module "Email Verification PRO" for stores on cms PrestaShop.
Module "Email Verification PRO" is a real find for shop owners on cms PrestaShop. It will save you from fake orders and reduce the number of non-existent users by email verification of each of them.
So, people registering in your online store will need to confirm the address they provided when registering their e-mail. They will receive an email with a confirmation link, which will need to be followed. Thus, confirm your data.
Plugin functionality "Email Verification PRO"
In the module's functionality, you can safely include the function of sending a letter to email during registration, a ready-made letter template, notifying customers about the passage or not passage of verification (both on the main page and in your personal account), as well as the ability to resend the letter to email.
In addition, the developers have taken care of the sellers as well. They will be able to put down the user verification status in the administrative panel manually. Also, an additional field "Verification by email" will be added to the clients' administrative panel, where the verification status of each client will also be visible.
Why is the "Email Verification PRO" module for cms PrestaShop good?
This module has simple and universal settings and works autonomously, without requiring your participation. It has a well-developed interface and detailed documentation.
Changelog
[1.1.6] - 2022-02-15
Fixed
[1.1.5] - 2022-01-15
Fixed
[1.1.4] - 2022-01-10
Fixed
0 Reviews for this product
0 Comments for this product