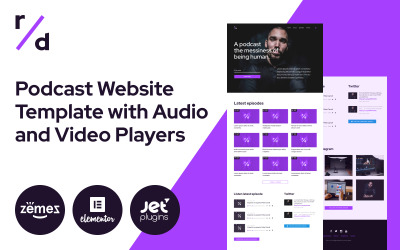 Your Stylish Podcast Website Template WordPress with Elementor builderExclusive services require an exclusive template. Richard Dream podcast website template WordPress is ideal for promoting your audio projects on the Internet. This template will fully satisfy all the needs of bloggers, travelers and creative people who like to create podcasts and want their audience to enjoy them.This is a stylish podcast website template WordPress that includes the main page with the friendly-to-user interface. You can make full use of this page or the other ones for showcasing your video activities:
display latest episodes, audio podcasts, integrate social media content to be seen right on your homepage;
spread the word about yourself and your main goals using the "about" section;
showcase your audio episodes with title and sequential numbering in the appropriate page;
highlight the single audio podcast with the full-size format, text description and simple gallery in the "single episodes" page;
create a strong events list and show key events using the "event" page.
Richard Dream podcast template for WordPress is synchronized with social networks, so the latest publications from Twitter and Instagram will be displayed directly