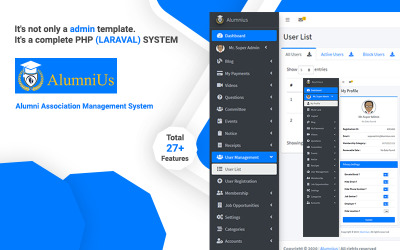 Alumnius- Association Management System- is a smart online system for Association management (with event Management ) in PHP Laravel. The solution is applicable for any kind of Association offering modernized management on users, event, committee, membership, Job, blog, payment, Notice, Account, FAQ, extensive reports management and also effective system profile with easy configuration. It has a nice frontend website with backend customizable panel.Features :Admin Panel:
Profile Manamgent
My Profile
ID Card
General settings
User management
Membership management
4 Types of Committee management
Advisor Committee
General Committee
Event Committee
Sub Committee
Event management
Upcoming event
Events
Event Pricing
Payment management
Receipt management
Job portal management
Blog management
Video management
Question/FAQ management
Notice management
Account management
Fully customized & dynamic settings frontend website
Change Password
Easily customizable and secure.
Installation Guide:
Download .zip package
Upload it to your server
Extract the package
Browse the package url via browser (domain_name/install/), you will find a interface to install.
Enter Application Name, Application Title
Enter Pruchase Code, Company name, Email, Mobile, Address
Enter Hostname : database host name eg:localhost
Enter Database Name : create a mysql database and provide the name ot the same
Enter Database username : username of the created database
Enter Database password : password of the created database
Enter default Email
Enter default Name
Click Install Now button
You are almost done.
Now