Frettalo - Real Estate Premium Moto CMS 3 Template
6 months of support
With a product you will get 6 months of support from the author. To know more about what is included, please read the support policy.
Sales: 29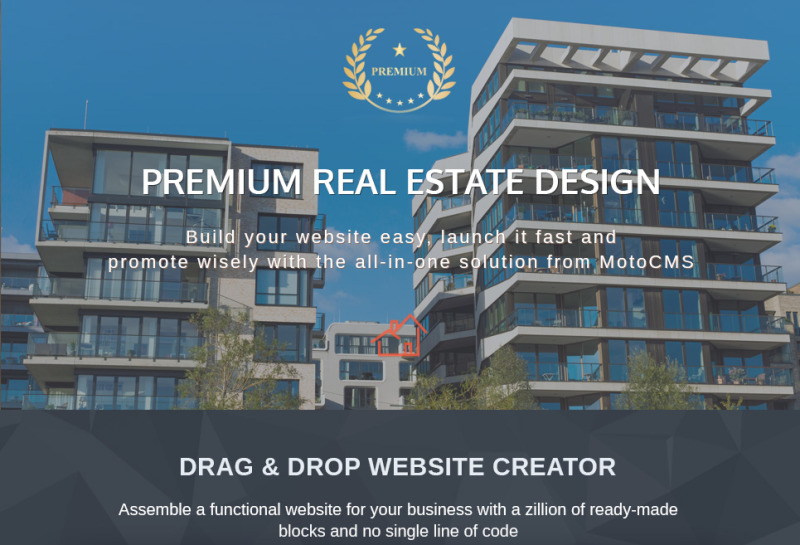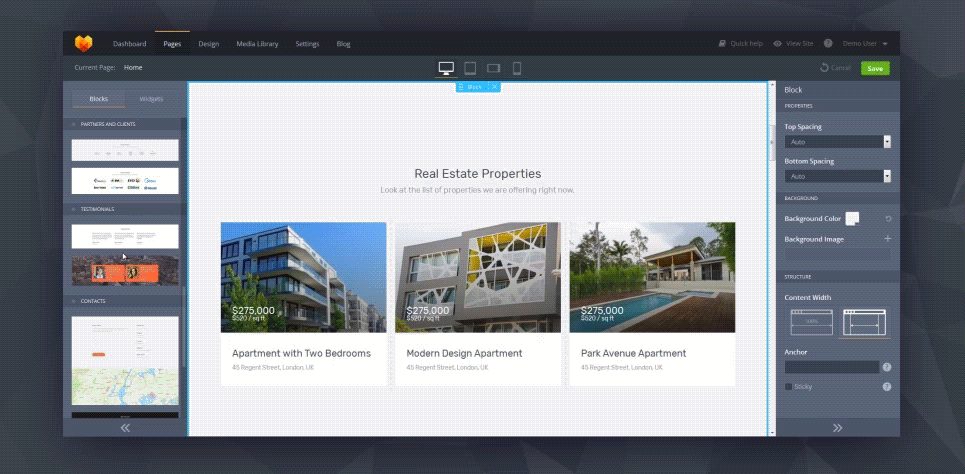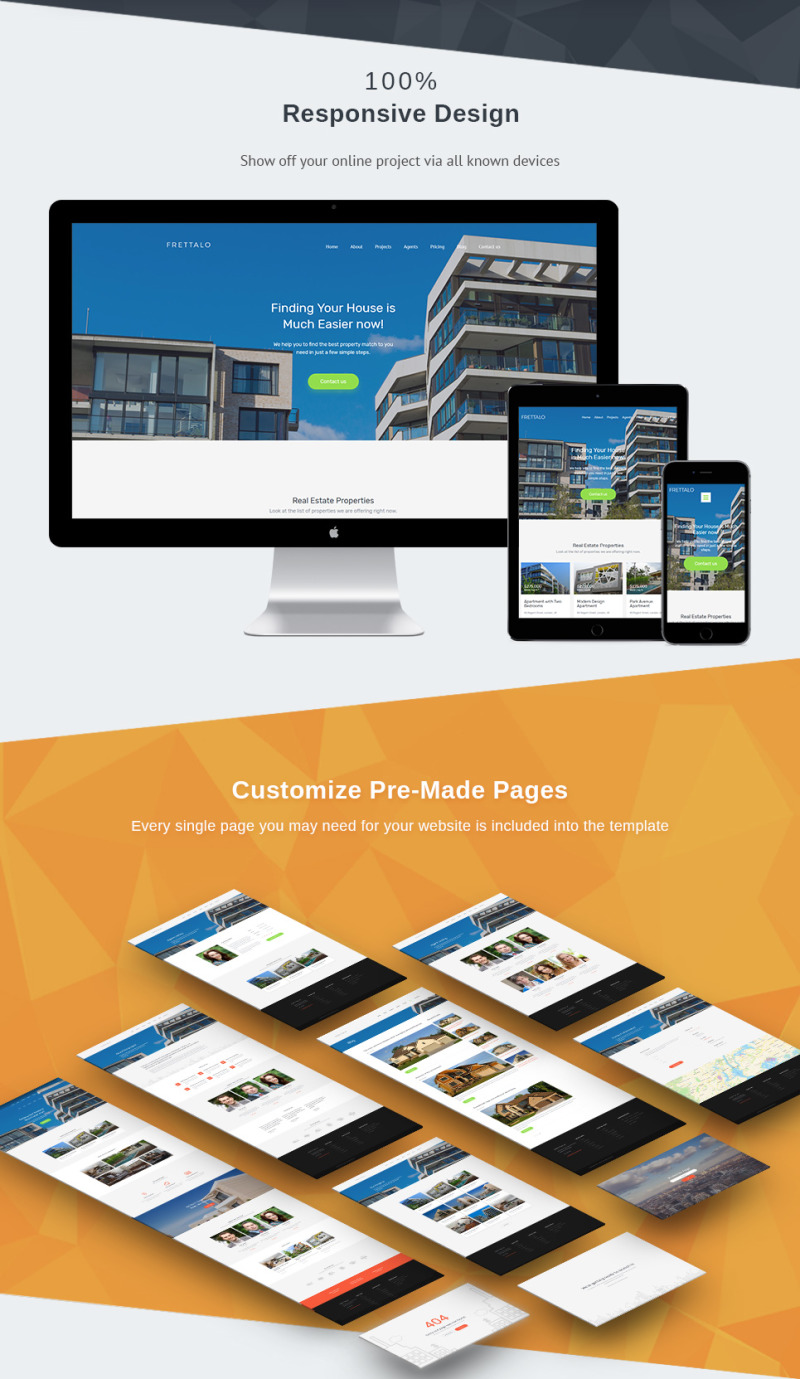 Created exclusively for real estate websites this responsive Moto CMS 3 template possesses the power of a user-friendly drag & drop website builder and a whole array of predesigned pages for any occasion. The homepage of this template is crowned with an image-based above-the-fold area with a call-to-action button optimized for high conversion rates. It is also supplied with a responsive gallery and a fully-fledged blog, so that you could display your real estate listings in a professional way. This modern and functional template is everything you need to create a great online presentation for your real estate business.
Changelog
Frettalo v1.7 2020-09-04
There was implemented a new Advanced Image widget that enables specifying description text for images, creating links inside of it and adjusting its location. Also, hovering over the widget, now you have the opportunity to change the image, add transparency and select animations for images changing, which will make your site more attractive to visitors;
There was added a Tag List widget that gives the opportunity to display a list of existing blog tags on any page of the website;
Updated to the newest MotoCMS 3 version;
Bugs fixed.
Frettalo v1.6 2019-12-13
The ability to specify a background color when activating the "Sticky" mode was added to the Container widget. In this case, the background color of the Container may be different in the normal mode and in the "Sticky" mode;
Updated to the newest MotoCMS 3 version;
Bugs fixed.
Frettalo v1.5 2019-07-02
Google Search was added to the admin panel. It includes 2 widgets - Google Search and Google Search Results. Now you can add a powerful search tool to your website and give users the freedom to discover your indexed content on a click;
Updated to the newest MotoCMS 3 version;
Bugs fixed.
Frettalo v1.4 2019-04-26
A new feature was added to the admin panel. It is an excellent alternative to LiveChat which allows clients to get in touch with you via the most popular messengers and also leave their details for further contact with managers;
Tags and Categories for Blog are added to the admin panel. They will help you to sort out your content and so will make the search on your blog comfortable and efficient for users;
Updated to the newest MotoCMS 3 version;
Bugs fixed.
Frettalo v1.3 2018-10-09
Google Map Pro - a new advanced Google Map widget was added to the admin panel. Using it, you can not only connect to Google Maps and display your office location on the website pages, but also choose different map themes, customize the controls display and add the necessary markers;
Updated to the newest MotoCMS 3 version;
Bugs fixed.
Frettalo v1.2 2018-08-09
A new effect has been added to the admin panel. It allows setting custom designs for hovers on different content blocks;
Tabs widget was added to allow users organize content effectively;
Updated to the newest MotoCMS 3 version;
Bugs fixed.
Frettalo v1.1 2018-03-07
Added pop-up window functionality to allow users create and edit pop-ups;
The Accordion widget was added. This functionality allows to improve design and display content in a new way;
Updated to the newest MotoCMS 3 version;
Bugs fixed.
2 Reviews for this product
Very nice. user friendly. Many modern options. Very easy for beginners.
Yes, I find Moto CMS one of the better templates on the market today. I have used many of their templates to date and am very satisfied with the back and of these templates. I am able to change my content change my logo if I need to very easily from the admin section. It is a very easy admin panel to work with because of this simplistic drop and drag process. Overall this is probably one of the best experiences in web development and design that I have used. I trained my end-users to go into the back in with ease and change or modify any parts of the website needed. So let me say by closing I would recommend Moto CMS to any third party or any do it your self individual that do not have a vast amount of technical experience. This very simple and easy application at a very fair price. I also recommend the installation because they know what theyre doing on the server side which can be a little bit tricky if youre not sure about what you doing. Thank you in advance for your kind consideration look forward to doing more business Realia Investment Inc.
0 Comments for this product