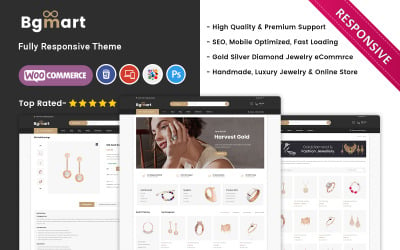 Bgmart is a WooCommerce-based WordPress theme for online stores.
This template is particularly for businesses that offer custom jewellery services, online jewellery stores, or any other type of accessory business, including precious stone, watch, and jewellery businesses.
Additionally, it is appropriate for furniture and home décor retailers.This template can be used to build an all-purpose online store that sells everything. It looks excellent with its clean, contemporary design.
The design of each subpage is unique.This theme is SEO-friendly and compliant with HTML 5. It is also planned to have the fastest page load speed, regardless of how many articles or various products load simultaneously on the page.
Anyone can use BG Mart without needing to know any coding. With features like easily editable logos, headers, and footers as well as adaptable shop layouts and product detail pages, we want to create a theme that users can entirely control.
Updated