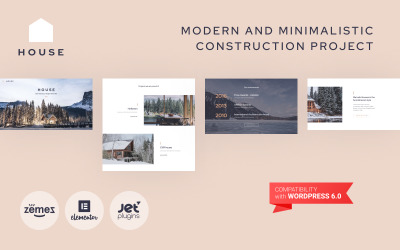 Black Friday & Cyber Monday Deal
Elegant Construction Project Website With The Product ExamplesOne of the most fundamental concerns while representing a solid product is to make sure your company is considered to be serious. Especially, when you are responsible for the well-being of many people, proper first impression matters. Created with the help of WordPress and assembled with Elementor, the construction project website is the best solution for those who care about their reputation on the market. The theme will be useful for architecture, real estate or landscape designer companies.Explore The Possibilities Of The DesignIn case you are wondering, what a company, which already has a huge experience and reputation, can do to increase their status, we have an answer! Nowadays the most quick and powerful way to promote any concern is to create a portfolio. Construction project website WordPress Theme will give you the possibility to describe your project from different perspectives. Moreover, you will get the ability to add extra pages and replace existing ones.The Theme already includes such pages as:
Home page;
About page;
What we do page;
Single project page;
Contacts page.
Attract More Customers and Increase
Updated