Expend - Electronics WooCommerce Theme
[ Exclusive Product ]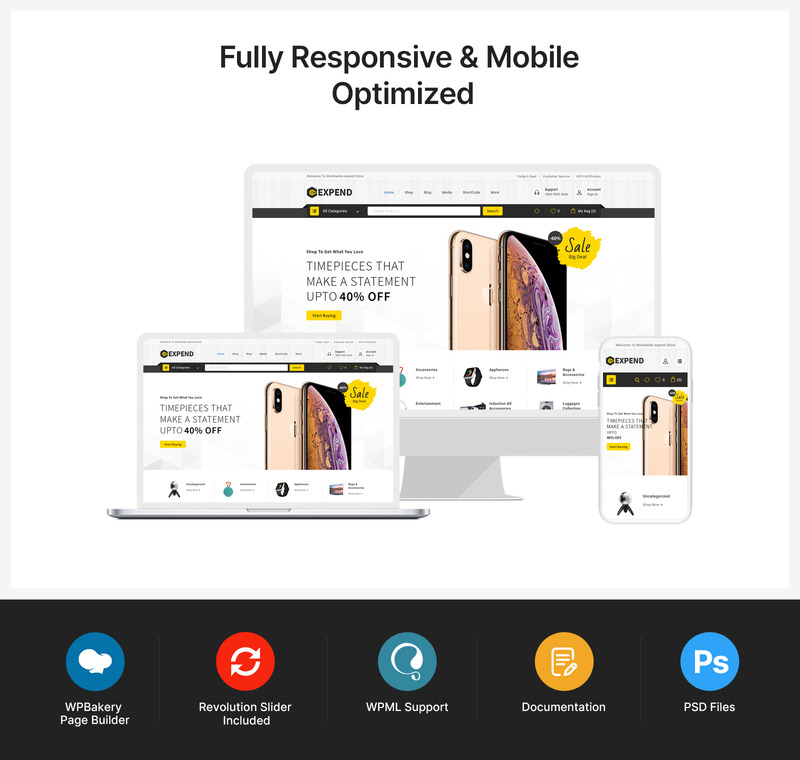 Expend WooCommerce theme is a modern and flexible WordPress with beautiful typography, subtle transitions, interesting use of navigation. Expend theme specially design for electronics, mobile, mega store and multipurpose store category. Expend theme designed it to make your site prettier and your life easier. Expend theme is compatible with a bundle of the premium plugin: WPBakery Page Builder and with this plugin easy to customize with drag and drop page builder that will help you to create any type of layouts with fast and easy. Expend theme included all featured with a collection of powerful short codes and widgets, for easy to use and capacity. Expend theme is packed with a large collection of shop layouts including many product templates and elements.
Changelog
##Update History
#26-Jun-2021
Update theme plugins file.
#11-May-2021
Update sample data and fixed some miscellaneous issue with theme package.
#28-Apr-2021
Fixed some miscellaneous issue with theme package.
#27-Feb-2021
Upgraded theme package for fixed outdated file issue and update plugins files.
#27-June-2020
Fixed some miscellaneous issue with theme package.
#27-May-2020
Upgraded theme package for fixed outdated file issue and update plugins files.
#30-Dec-2019
Fixed outdated file issue with theme package.
Update sample data files.
7 Reviews for this product
Easy and good support team. So far I am satisfied, I will recommend it
Clean and professional theme, excellent for WooCommerce sites.
amazing template also support r very helpful and quick replay
I bought this product, because my customer likes the design. Many 3rd party plugins are needed to keep the theme running. On top of that the author wants users to buy another premium plugin to translate the theme.. WHAT IS NOT NECESSARY. a) Because there are free translation plugins and b) no plugin would be needed if the included pot file would be complete. Hint: The programm Poedit can scan WordPress themes and plugins and create the translation file automatically – the pro version even translates it automatically into your language. What is very annoying ist that there is no option to change the main color (many other themes offer this option). Also some elements are not aligned correctly. That are my first impressions. I did not need the author's assistance so far. EDIT: Additionally to my first impression this template uses custom html in the WYSIWYG-Editor. If the user deletes to much, he breaks the design. In the Footer there is space for a newsletter. My customer does not have a newsletter, so I replaced it with a search widget. But this breaks the layout. Working with this theme is not fun. In my opinion it is not user-friendly and you should not buy it, if you dont have a professional who can support you.
This theme is great for any business that is looking to use their website to sell an extensive catalogue of products. On this occasion, this website template was very suitable for electronic products, and the categories menu makes it really quick, easy and intuitive to navigate. I highly recommend this template as a great way to showcase any large array of products, including where many product categories exist.
0 Comments for this product