Premium X-Cart Templates
2019's Best Premium X-Cart Templates at TemplateMonster

Recently Added Premium X-Cart Templates
Premium X-Cart Templates
X Cart Templates are design mockups for online stores operating on the basis of X Cart eCommerce platform. Being an open-source eCommerce engine, X Cart is used by over 30.000 online stores worldwide. It is possible to download various versions of X Cart software adapted for different operating systems. In spite of having an open source PHP code, the software has a one-time licensing fee. Supplied with rich documentation, X Cart ensures smart and headache-free performance for both users and developers.
Fully responsive design templates easily adapt to the screen resolution of a mobile phone or a tablet. This ensures your online store will look perfect on any digital device without any extra design tweaks or coding. Provide the best user experience to the mobile surfers and attract more mobile traffic!
Multiple payment systems support – X Cart engine supports 120+ payment gateways like PayPal, Sage Pay, Authorize.net etc. Feel free to accept payments in different currencies from all over the world. Moreover, all transactions are secured thanks to the powerful anti-fraud tools. – Real-time shipping quotes – your clients get the latest shipping quotes at real-time prices from multiple shipping services such as UPS, DHL, FedEx etc.
X Cart offers numerous sales channels – it can be connected with social networks and shopping engines providing maximum visibility to your goods on the web. Besides, X Cart platform has one of the largest active eCommerce communities worldwide. Web developers and online shopping professionals provide their expertise in the world of online business. Browse premium X Cart Templates to start a successful online commerce business in nothing flat!

Useful features of X-Cart Templates
– Responsive design
Multiple types of research confirm that the number of smartphone and tablet users has grown to 4 billion people. Yet, there is no need trying to predict your customers' screen resolution. Creating 100% responsive themes, which adapt to any screen size, we made sure that visitors of your site will be able to appreciate every design and functional feature as comfortably as a desktop user.
– Megamenu
Sometimes it is not easy for buyers to find a needed product right away. Especially if your store offers a wide variety of items. To make customers' life easier and prevent them from wandering off, we introduce a Megamenu. Organize products into categories and subcategories on a big drop down or fly-out menu. Customize it to your site's design, choose a fitting color scheme and an attractive font. Your customers will show gratitude by increasing both – sales and incoming traffic.
– Ajax mini-cart
The easier and more care-free the process of shopping is, the harder it is to stop. Sometimes the process is so enjoyable, that buyers get carried away. They pick up extra items, even the ones they didn't intend buying primarily, and come to themselves on the checkout with tons of unexpected products but pleased nonetheless. For you – a shopping cart website owner – those are the best kinds of customers. Luckily, now you have a tool that will urge site visitors to go on a shopping spree! Ajax mini-cart is a scaled-down version of X-Cart shopping cart. It makes a shopping experience as effortless as ever. It doesn't require you to leave or refresh the page whenever you add another item. It doesn't interrupt the shopping process and makes customers stay on your page longer, purchasing more and more.
– Product Badges
Being a multi-product store, it is natural that some items become immediate bestsellers and others, well, need some time to get noticed. With the help of product badges, you can speed up a realization of less popular items and reinforce a success of demanded ones. Put a "New!" badge on a product to alert buyers about newcomers or stick an "On Sale" sign to please customers with a good deal. Use "Coming Soon" badge to create a demand even before an item appears in stock or expedite a sale with the help of "Free Shipping" sign. Now you have a chance to check for yourself how effectively product badges promote your stock.
– Slider
A necessity of an online shop layout is simple, yet effective, design. It should not take visitor's attention away from actual products and only expedite sales. Additionally, do not forget that a good layout follows latest trends of web design. To fit all these recommendations we came up with an elegant solution. A full-width banner is a great way to attract attention to important messages, like new arrivals, or seasonal sale, or any other significant information to keep in mind while browsing a page. Do not forget that it is fully customizable too, so you are able to create a gorgeous slider that will fit your site perfectly.
– Multilanguage and multi-currency
Do not limit your business, become an international store! Allow customers from all over the world to experience a comfortable shopping in your shop. You are able to translate your website's content into 40+ languages to prevent any misunderstandings. Additionally, a payment with a currency of customer's choice is available. These convenient features show that you always keep your customers in mind, regardless of their location, and give you an advantage over competitors.
– Multiple payment systems support
X-Cart engine supports 120+ payment gateways, like PayPal, Sage Pay, Authorize.net, etc. Feel free to accept payments in different currencies from all over the world. Moreover, all transactions are secured thanks to the powerful anti-fraud tools. Additionally, your clients get the latest shipping quotes at real-time prices from multiple shipping services such as UPS, DHL, FedEx etc. Again, customer care points are coming your way.
– Stock photos included
Premium X-Cart skins come with up to 15 vivid high-resolution stock photos for free. It is great news in case you fell in love with one of our templates (we bet you did) and would like your web store to look exactly like a demo version of our theme. The opportunity to use included images allows to spare your time and money on photographer services and focus on your business.
– 24/7 Support
We aim to make our templates easy to use even for inexperienced users. We strongly believe that nothing should stay on the way of talented business owners and content creators on the way of creating a website of their dreams. That is why in case of any questions or concerns you can always rely on our experienced Tech Support. Feel free to contact us via phone or get an immediate response via live chat. Our friendly and professional team is available 24/7 and always ready to help.
– Documentation
We provide documentation with clear instructions along with our templates. It comes in handy for more experienced users in the process of installation and customization of a theme.

Why choose X-Cart Themes?
Living in a digital century it would be narrow-minded not to use all the advantages that computer engines offer. No wonder every industry has its online analog now. Especially it concerns eCommerce business. In case you are a shop owner or you are looking to start a web store, and you have stumbled across this page, then today is your lucky day. We know exactly what you need. Grab all your business and aesthetic senses and choose a perfect X-Cart Template that will make regular customers out of casual visitors!
More than 1,500,000 customers served
Read what people say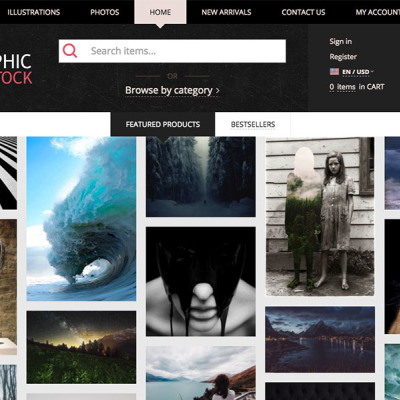 Graphic Stock X-Cart Template #64492
Reviewer: Jill Schwegel
Posted:
Do not believe everything you see in the demo. It's highly stylized and you will need to know a lot about CSS to achieve what you see. Even with all the styling, there are major goofs. I do not recommend this template.