Digimint - Business Services Clean HTML Landing Page Template
[ Exclusive Product ]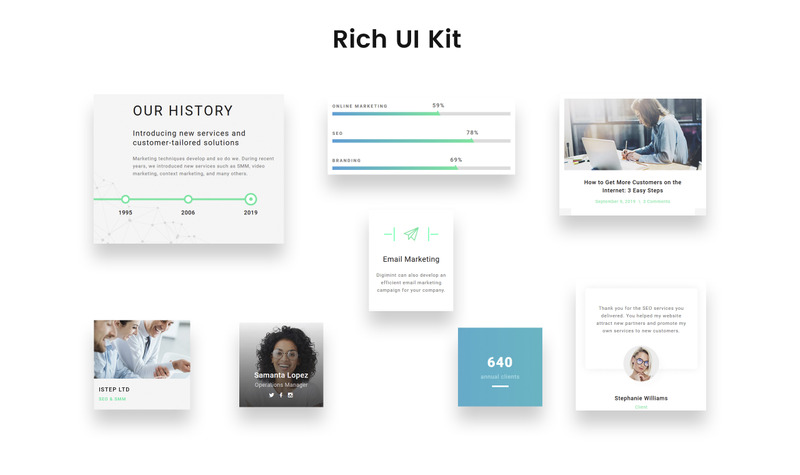 Marketing agency always needs new clients. And it is important to use all possible means of advertising your company and promoting your services. Due to new technologies, you can use the Internet for advertising. And the best option for online advertising will be a website. And it is even better if you have a professionally developed website with eye-catchy design and attractive visual effects. Digimint is a perfect choice in this case. It is easy to edit and requires no coding. Moreover, it also allows you to present your team and your services in the best possible way. You can use portfolio, news blog, and social options.
Changelog
Digimint Version 1.1 (October 29, 2020) Additions - FIX: Minor bug fixes.
4 Reviews for this product
Quick payment, good service will support for next times. Good 5****
Very good and simple template, can be used with very less knowledge.
Отличный, четкий шаблон! Покупкой доволен! Буду еще покупать!
Хороший шаблон, сверстанный по современным на 2019 год технологиям. Благодаря разделению каждого раздела шаблона на блоки, можно без лишних усилий поменять порядок вывода информации. Также понравилась разработанная для шаблона анимация. Большинство элементов, так или иначе, применяют современные эффекты. С помощью html атрибутов можно быстро настроить слайдер или галерею, установив нужное количество элементов в экране, скорость прокрутки и т.д. Нейтральный дизайн позволяет адаптировать шаблон под разные тематики, что тоже является плюсом. Посмотреть разработанный с данным шаблоном проект, можно по адресу http://lcl.dostavkasbali.ru/
0 Comments for this product