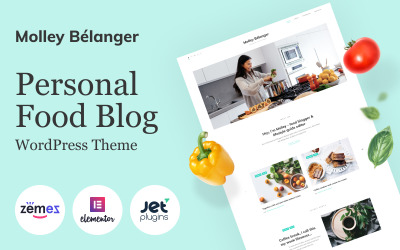 Neat Food Blog WordPress Theme with Clear Templates StructureIf you are looking for the convenient and user-friendly interface template for blogging, the Molley Belanger food blog WordPress theme will satisfy all your needs. Molley Belanger food blog WordPress theme is created directly for the storytelling and comes with the usable blogs sections.The main advantage of this theme is a clear structure of the template. It is simple to use "about" page in the introduction section. You can display a recent recipe or represent food photos in the largest category page. And also use neat page for the contacts and "contact me" form.Add your categories and display them on the main page to make navigation through your content easier. Showcase the latest posts with the main tags on the front page.With the Molley Belanger food blog WordPress theme it is possible to display posts sufficiently and follow them by a set of benefits for diversifying your content.
add an associated gallery to spice up the content;
use the social sharing for media;
add reviews section to each of the blog posts.
The food blog WordPress