TechSoft - Software Development Studio Website Template
[ Exclusive Product ]
This product is available with 15% discount!
Offer ends in
1d 8h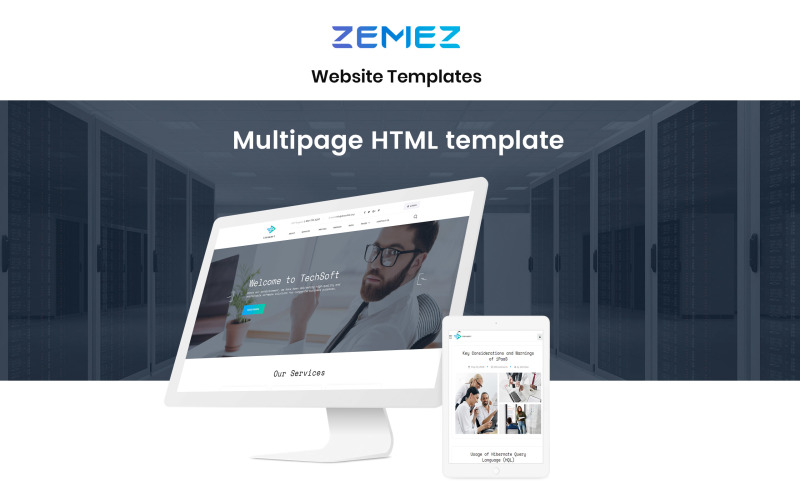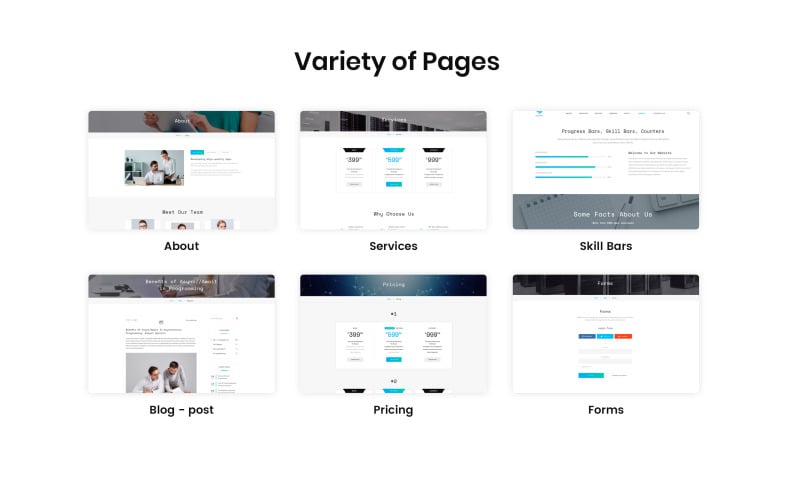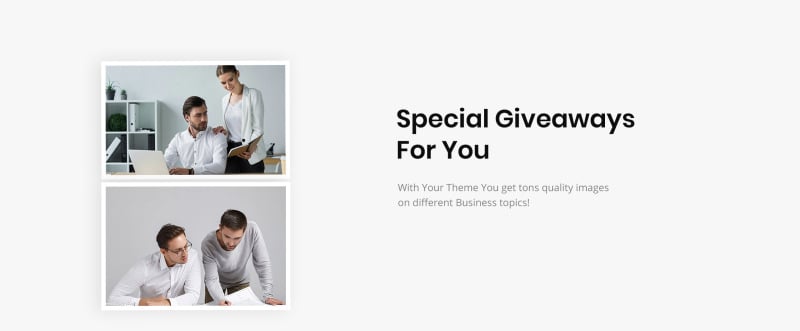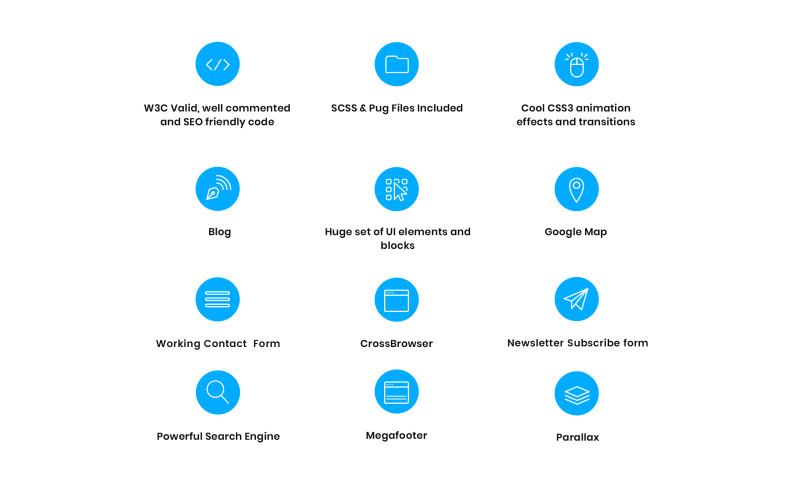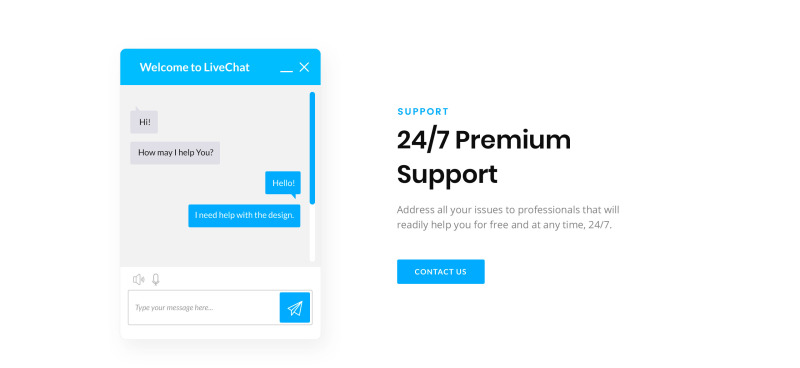 Reliable Software Development Studio Website Template
A software development studio website template gives your business a great opportunity to easily build a functional website. While many businesses spend money to hire web developers, you can save a lot of resources just by using an HTML template. Such a solution has a lot of advantages. They are quite affordable and easy to work with as well. You just have to unpack the template archive and upload your site.
Still, an average template won't make your website better. That's why you always have to demand more from modern HTML solutions. For this exact reason, we have built the TechSoft template. We tried our best to sure that it satisfies the requirements of software developers. It is based on Bootstrap 4 for better responsiveness. This framework also provides easy maintenance. Undoubtedly, it is important for many website owners who want to control their sites.
Stunning HTML Solution with Lots of Features
The TechSoft software development studio website template provides a clean and bright design. Due to the informative layout, you can post any type of content. Also, with this template, your web resource will be available on any gadget or device. It will support any screen resolution as well. Our template offers lots of opportunities. For example, you can take benefit of using these awesome and highly useful features:
W3C valid & SEO-ready code;

SCSS & Pug source files;

Working contact & newsletter subscription forms;

Impressive CSS3 animations.
Our HTML template provides a wide set of pre-developed pages. They are designed to meet the various needs of your business. To put it simply, with our software development studio website template you can give detailed information about what you do. For example, you can use the About us page to achieve this goal. Or you can share the current prices via the pricing page. Don't forget that you can connect directly with your customers due to the Contact Us page
.
Customizable HTML Template for Software Developers
Many website owners aim to make their sites unique. To help you achieve it, we have included a variety of UI elements. They are already integrated into the TechSoft software development studio website template. However, these elements can be used to make your website look more special. For example, you can add more colorful buttons or change the look of tabs and counters. And if you are a developer, you'll certainly get lots of customization possibilities with this UI kit.
In case you're looking for more information about the TechSoft, its documentation might be helpful. It provides basic assistance during template installation. It also helps you configure this HTML solution properly. However, there might be situations where you'd require additional support. If this happens, our qualified team will be ready to assist you. We believe that our template catalog will be useful to you in establishing your new website.
Changelog
TechSoft Version 1.1.2 (August 28, 2020) Additions - UPD: Updated Bootstrap Script 4.2 to Bootstrap 4.4.1;; - UPD: Updated Bootstrap SCSS 4.2 to Bootstrap 4.4.1; - UPD: Updated Popper 1.11 to Popper 1.16; - UPD: Updated Owl-carousel 2.2.1 to 2.3.4; - FIX: Minor bug fixes.
TechSoft Version 1.1.1 (December 04, 2019) Additions
- FIX: Minor bug fixes.

TechSoft Version 1.1 (June 26, 2019) Additions
- ADD: Campaign Monitor Plugin;
- UPD: Updated Bootstrap Script 4.0 (beta) to Bootstrap 4.2;
- UPD: Updated Bootstrap SCSS 4.0 (beta) to Bootstrap 4.2;
- UPD: Counter plugin updated;
- UPD: ProgressCircle plugin updated;
- UPD: Countdown plugin updated;
- UPD: ProgressBar plugin updated;
- UPD: RD Mailform updated;
- FIX: Markup fixes;
- UPD: Rights mixin update;
- FIX: Minor bug fixes;
11 Reviews for this product
Easy to work with the code behind this site. I am using this for my own website.
Polecam wszystkim usługi template monster. Serwis posiada naprawdę duży wybór nowoczesnych strony internetowych oraz bardzo sprawnie działający dział pomocy technicznej. Na czacie w czasie rzeczywistym można rozwiązać niemal każdy problem. Ja osobiście miałem 2 z którymi konsultant poradził sobie w 15 minut. Pełen profesjonalizm i podejście, w którym głównym punktem jest zadowolenie klienta. W przyszłości na pewno skorzystam z usług kolejny raz.
Pretty good template for fast starting up with website if you dont want to spend money and time for design and markup. But there are some small circumstances that not let me put 5. There are no built-in modal, so we use bootstrap modal. And core.min.js file is in concatenated and minimized state - that works out of the box but causing some small troubles if someone need to change some dependencies - it would be so cool to have package.json file to make it possible to install all the dependencies separately. Of course, some people wont treat like a trouble at all. Anyway, this template worth its price, and we are satisfied with our purchase :-) .
This template is sleek, responsive, modern, and truly game changing. The mobile site is beautiful and fast and all of the colors are crisp and full. This site has a pretty nice plethora of themes to offer that are really high quality. I would recommend this template to anyone looking to run a technology startup in the future. It has a ton of potential. From the font to the responsive bootstrap, I cant think of a single con.
мне нравиться сайт Templatemonster очень много разнообразных шаблонов
Show more
0 Comments for this product
You can write a comment for this product