DreamSoft - Software Development Company Multipage Website Template
[ Exclusive Product ]
Updated
6 months of support
With a product you will get 6 months of support from the author. To know more about what is included, please read the support policy.
Sales: 338
Created: Jul 31, 2018
Updated: Jan 30, 2023
ID: 71028
MonsterONE - Unlimited Downloads for $12.00/mo
290k Items | Commercial Use

License permits using this item to create unlimited digital end products for sale during the active period of your subscription.

| Support
Join to Download this Item for Free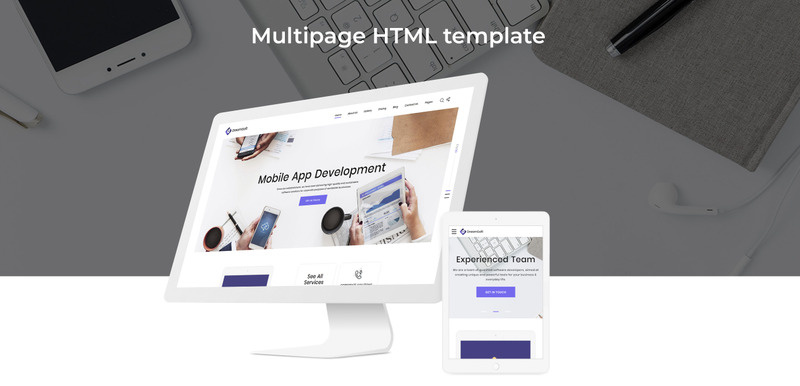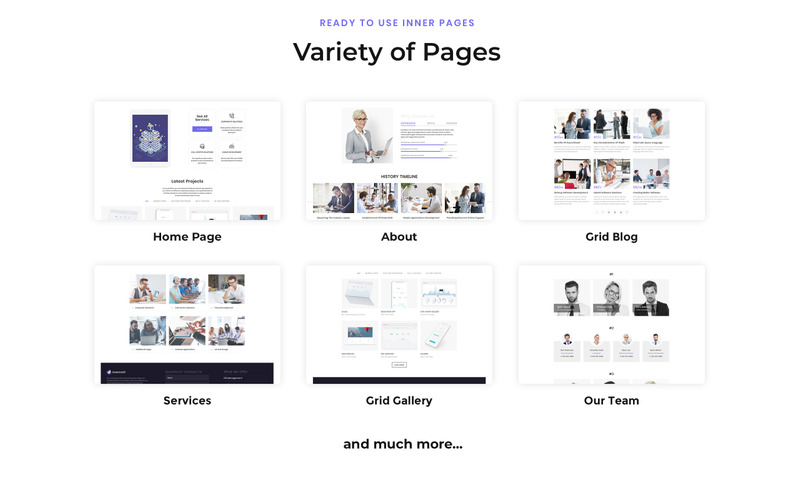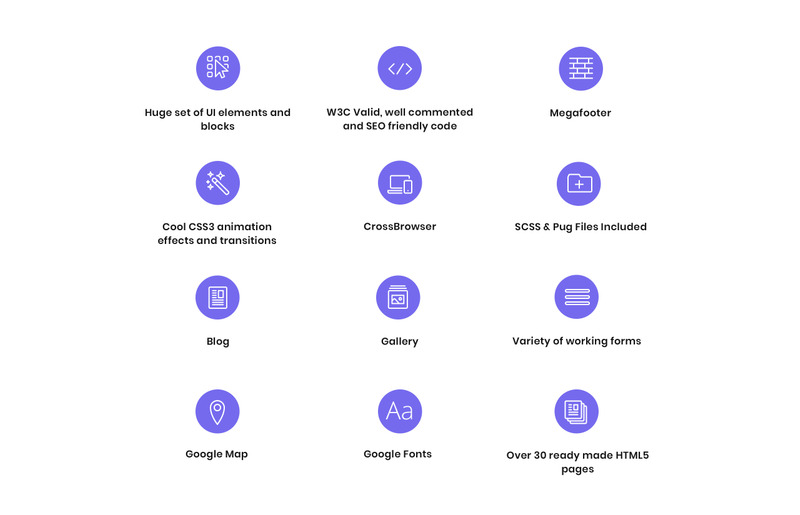 Flexible Software Development Agency Website Template
A software development agency website template will provide your company's website a considerable online boost. Many modern companies rely on their websites heavily. Nowadays, sites are the means of promotion and advertising. They can attract the attention of your potential clients and customers. Also, a well-developed website can help you sell your products and services more effectively. This is especially vital for software development companies.
Still, an average website is a bad companion in advertising. First of all, to succeed in it, your site has to appeal to your future clients. Also, it should be easy-to-use and functionally rich. That's why web development services are of high demand now. However, such solutions are costly. If you aim to build an effective website without huge investments, the DreamSoft HTML template might help you achieve your goal.
HTML Template with a Variety of Features
With our software development agency website template, you receive everything your company needs to succeed online. First of all, it includes an impressive design crafted by our team. Also, its informative layout is based on Bootstrap 5. It allows for high responsiveness as the template supports all modern devices & various display resolutions. Besides, our template offers a variety of useful features for your website, including:
W3C valid & SEO-ready coding
Cross-browser support
Google Maps & Google Fonts
SCSS & Pug source files
Parallax effect
However, these are not all the benefits offered by DreamSoft software development agency website template. Our HTML solution also provides a range of other minor features. They include easy navigation & mega footer. With them, you can help your visitors to find the necessary information quicker. Also, with a set of working forms, you can stay in touch with your customers. Reaching out to them through the newsletter is also simple.
Multipage Website Template for Software Development Agency
Due to a wide variety of included pages, our template can fit any software development website. With impressive blog & gallery pages, you can post the recent news and show your latest projects. Moreover, with About Us page, it's easy to tell more information about your company. Don't forget to use the Services section if you want to describe your offers in detail. Describing your prices can be easily done thanks to the Pricing page.
If you aim to create a unique website, DreamSoft can help you with it. Our HTML template includes a vast kit of UI elements. It is great for adding new special elements to the interface of your site. Thek it includes buttons, progress bars, tables, and other awesome elements. To get more information about this HTML template, don't hesitate to read its documentation. Also. our professional support will be glad to help you manage this new template at any time.
Changelog
DreamSoft Version 3.1 (January 30, 2023):
UPD: Bootstrap 5.0.1 to 5.2.0;
UPD: Pooper.js 2.9.2 to 2.11.5;
UPD: jQuery 3.2.1 to 3.6.0;
UPD: jQuery Migrate 3.0.0 to 3.3.2;
UPD: PHPMailer 5.2.9 to 6.5.5 ;
FIX: CSS styles;
FIX: Minor bug fixes.
DreamSoft Version 3.0 (July 08 , 2022):
UPD: Bootstrap to 5.0.1;
UPD: Popper.js to 2.9.2;
UPD: Form to 4.3.0;
FIX: CSS styles;
FIX: Minor bug fixes.
DreamSoft Version 2.1 (February 26, 2021):
UPD: Bootstrap to 4.5.3;
UPD: Popper.js to 1.16.1;
UPD: Swiper to 5.3.1;
UPD: PageTransition 1.1.4;
UPD: CircleProgress;
UPD: Counter;
FIX: Minor bug fixes.
DreamSoft Version 1.4.1 (November 30, 2020):
DreamSoft Version 1.4 (May 18, 2020):
UPD: Update Bootstrap 4.1.3 to 4.4,1;
FIX: Markup fixes;
FIX: Minor bug fixes.
DreamSoft Version 1.3 (September 30, 2019):
UPD: Copyright Year Plugin;
FIX: Markup fixes;
FIX: Minor bug fixes.
DreamSoft Version 1.2 (Marth 29, 2019):
ADD: Table of content ( style.css );
UPD: Bootstrap 4 Framework ( CSS / JS );
UPD: Carousel plugin ( Owl carousel v2.3.4 );
UPD: Page loader plugin ( PageTransition );
UPD: Map plugin ( RD Google Map = Current Google Map );
UPD: Form plugin ( Current RD Mailfrom );
UPD: Timecircles plugin ( SVG TimeCircles );
UPD: Counter plugins;
UPD: Isotope plugin;
FIX: Smooth scrolling;
FIX: JS structure optimization ;
FIX: Minify Multi toggle plugin;
FIX: Share list with custom toggle;
FIX: Project structure;
FIX: Other minor bug fixes.
DreamSoft Version 1.1 (August 02, 2018):
UPD: Google Map Plugin;
FIX: Other minor bug fixes.
15 Reviews for this product
DreamSoft - Software Development Company Multipage Website Template is easy to edit as needed.
Really good template, easy to implement and configure. We recommend this solution for company web page
I used this template for my job website .It is so cool for my job.Our customers always tell me how beautiful you website.so smart and nice .Thanks
Nice and a very good template for our use, used it for designing our company site in a short span of time. Good One.
Great template easy to use and customise. Looks crisp and modern which updates older websites in a flash.
1 Comments for this product
Excellent product..!!!
Thank you for your comment, Yoenis! We are glad you enjoyed working with the template!