Brush Sharp | Multipurpose Responsive Cleaning Services Website Template
[ Exclusive Product ]
Sales: 29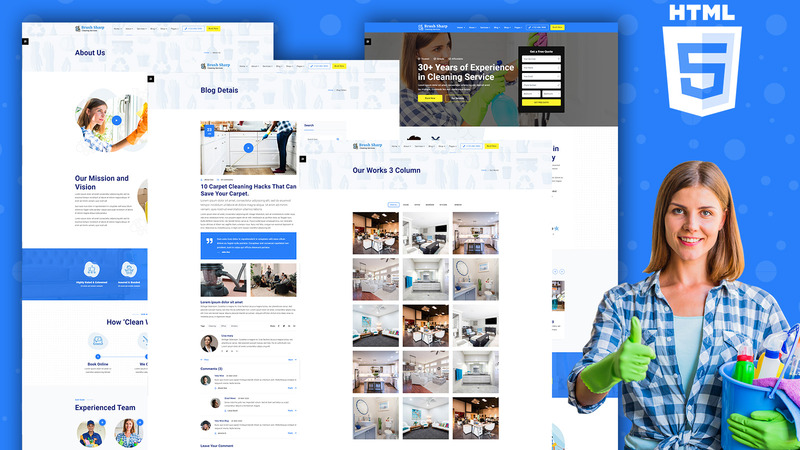 Brush Sharp Multipurpose Responsive Cleaning Services Website Template
Brush Sharp is a unique, modern Cleaning Bootstrap 4 HTML5 Template. Brush Sharp is perfect for any cleaning agencies, window cleaning services, dry clean, house service, maid services, baby-sitter, personal cleaner website. Packed with high-quality 3 niche oriented homepages and 19 built-in awesome inner pages such as about, departments, department details, timetables appointments, multiple blog layouts, faq, team, contact form details, services, service details etc.
While designing Brush Sharp we used Bootstrap 4. It's 100% responsive that's why it will work nicely on all smart devices(smart phones, tablet, PCs and desktops). It's also well documented and clean coded that's why anyone can change it easily.
Brush Sharp Responsive Cleaning Services Website Template Features
Functioning Contact Form
Full Responsive and most advanced UI
Clean Design
Google Fonts
Clean and well commented codes
Well documented
Contact Form Working
Cross browser compatible – IE10+, Chrome, Firefox, Safari, Opera
And Much More
Brush Sharp Responsive Cleaning Services Website Template Pages
about us page
blog details page
blog details nosidebar page
blog details slider page
blog details video page
blog list grid 1 page
blog list grid 2 page
blog list grid sidebar page
blog list standared page
blog list standared left sidebar page
blog list standared no sidebar page
cart page
checkout page
clients page
coming soon page
contact us page
cost calculator page
error page
faq page
gallery 2 page
gallery 3 page
gallery 4 page
gallery after before page
gallery after before 2col page
index page
index 2 page
index 3 page
index 4 page
login page
portfolio col 3 page
portfolio col 4 page
portfolio details page
portfolio masonry page
pricing 1 page
pricing 2 page
product details page
services 1 page
services 2 page
services details page
shop page
shop col 4 page
signup page
team 1 page
team 2 page
team details page
testimonials page
5 Reviews for this product
ME gustó mucho. Colores atractivos, fluida, fuentes coherentes, excelentes imágenes, estupendos efectos.
Данный шаблон имеет прекрасный визуал. Универсальный и подходит под разные темы бизнеса. В целом его можно использовать не только под тематику клиринга, а и другие направления. Адаптивен и хорошо оптимизирован, имеет документацию, мне как разработчику отлично подошёл. Соответсвует всем показателям поисковых систем. Чистый валидный код. Советую данный шаблон для всех у кого есть подобная задача.. В целом уже 5 шаблон покупаю. Пока были вопросы только по готовому шаблону вордпресс. А чистые html шаблоны радуют.
This is a great template. Its clean and functions are expected. Its also simple to update and customer support is top-notch. Highly recommend this or any template from this author.
Nice-looking template but just know that the images are not provided at the purchase. However, after leaving an initial review, Slidesigmathemes contacted me and graciously offered to send me the images. That was great service and is much appreciated! It must be said that with them reaching out to me, I have decided to change my rating for this product. The template has a nice layout and smooth flow. Thank you, Slidesigmathemes.
This is an excellent template for a House Cleaning Services client. Very impressed with the layout, ease of use, animation, and overall simplicity. The customer was thrilled that we were able to provide an excellent site with all relevant information and still be user-friendly. Thanks, Template Monster.
0 Comments for this product