PrestaShop Themes
Best Premium PrestaShop Templates from TemplateMonster

TM Banners PrestaShop Themes
Recently Added PrestaShop Themes
PrestaShop Multipurpose Responsive Theme can be used for any kind of online eCommerce project you can think of, be it a fashion or spare parts store.
Popular PrestaShop Categories
Key Features
that meet your business and customer engagement needs
Translation (Localization)
Our PrestaShop templates can be switched between 5 languages: English, German, French, Italian, and Russian.
Effortless Installation
We have included template installation files into the download package. After a super simple installation, your template will be just the same as on our Live Demo. All procedures are made clear for you, so you can easily embed the content into a website.
Extensive Documentation
Documentation provided for you is extremely explicit. The manuals will guide you through the PrestaShop installation process, template installation, and further website customization. With these thorough instructions, you will make all the steps with comparative ease.
Responsive Home Page Slideshow
Easy control over a slideshow to display images of your products on the home page. With the help of a fully customizable slider, you can add images, indicate slide or fade effect, choose between 30 easing methods, and even edit the speed of movement and transition. Furthermore, our slider is multilingual now.
Animated 'Add to Cart' Process
We have added a new option to enable animated 'Add to Cart' process with page scrolling. What is more, products are now displayed in the shopping cart with images, to improve visibility and increase your revenue from sales.
Lazy Load
Lazy load is a delay in loading of images in long web pages. Images outside of viewport are not loaded until user scrolls to them. Using Lazy Load on long web pages will make the page load faster.
Font Awesome Icons Integrated
Font Awesome icons are vectors, which means they are gorgeous on high-resolution displays. These icons are free and simple in use.
Ajax Search
With Ajax Search you can get search results while you type. Results narrow as you continue typing but you always have the possibility to remove characters and see broader results again. Such small things help the user find exactly what they need quicker, which makes the site more usable.
Cookie Policy
This feature will help you stay a law-abiding merchant warning the user that your website may collect their personal data or ask user's permission to do so. This works as a popup window appearing when the user enters your site at first time.
5 Best PrestaShop Themes 2019
PrestaShop Themes
PrestaShop templates are ready-made designs for online stores running on PrestaShop eCommerce engine. A PrestaShop template package provides the files, images, modules and documentation to help you create a full-fledged e-store. Themes for PrestaShop allow to modify the appearance and functionality of an online shop and support the language localization.
If you are still feeling indecisive whether PrestaShop is an eCommerce solution for you, here's what we have to say. PrestaShop, an open source platform for online commerce, is utilized free of charge by over 100,000 electronic stores all over the world. This software can boast a remarkable selection of features that will make your online enterprise a success!
It goes without saying that a neat and high-quality design is required to make your PrestaShop online store differ among the others. TemplateMonster has plenty of professional ready-made PrestaShop themes to grab attention of your prospects and draw new clientele to your e-store. in order to accentuate how profitable it is to use our PrestaShop website templates, go ahead and discover the benefits at your service:
– Fully responsive design – multiple website categories offer versatile and a hundred percent adaptive design that is scaled for multiple screen sizes of any present-day electronic devices.
– Effortless installation process – it has become extremely easy to install, fine-tune and customize our PrestaShop themes due to extremely particular documentation that provides a thorough step by step guidance.
– Rich design possibilities – you are given a complete freedom of design choices: several color schemes to select from, Parallax scrolling effect, Background Video, Custom Block area to insert additional information, seo-friendly Blog option and more.
– Excellent product presentation – PrestaShop engine offers multiple product presentation features such as: Quick View, Product Image Pop-Up, Badges,
Product Thumbs Carousel, YouTube Video descriptions and so on.
– Extensive shopping functionality – PrestaShop allows to sort shop items via Product Sort feature and Ajax Product Filter. It is also possible to look through the most in-demand goods via Customers Also Viewed feature. The customers can save products to a Wishlist, which prevents from forgetting the items they'd like to purchase.
We could have included a few more features into this description, but we'd like our products to speak for themselves. Do not hesitate to check out our premium PrestaShop themes to opt for the appropriate solution for lasting business presence on the Net!

Build a PrestaShop Powered Ecommerce Site
To create a PrestaShop-based online shop you need to do the following:
The first thing you need to do is choose an appropriate domain name for your online shop. Follow these rules to ensure you do everything right. First of all, make a domain name concise and simple. Secondly, make it recognizable and associated with your e-store. Remember that the choice of a domain name may serve SEO and branding purposes.

Opt for PrestaShop Hosting Provider
To help your online store work well, you'll need a PrestaShop hosting provider. Go for a web host with reasonable pricing and top-notch 24/7 technical support. Other factors you should pay attention to are the uptime and page load speed to influence your website's performance.
Also, purchasing a PrestaShop theme at TemplateMonster.com you get a special offer and receive a 1 year of InMotion hosting with unlimited bandwidth and disk space for $47 only.

Install the Latest Version of PrestaShop
Ensure your e-store works the way it should by installing the latest PrestaShop version on your hosting. PrestaShop is open-source, so you can download PrestaShop 1.7 version and fine-tune it according to your preferences.
And if you have any questions about PrestaShop installation and customization, feel free to use the PrestaShop knowledge base. Also, TemplateMonster's Template Tuning team will always assist you whenever you need any extra setup or tweaking of a chosen PrestaShop template.

Purchase PrestaShop Theme
As soon as PrestaShop eCommerce engine is installed on the web hosting, it's time to opt for
a PrestaShop theme for your online store. Making a choice will be easy owing to a vast amount of theme categories that will suit a project of any type – from personal to business.
Take a look at the flagship PrestaShop themes offering top-notch quality and high-end functionality. The latest Eveprest is a multipurpose responsive PrestaShop theme that will fit any eCommerce project. Also, there's an absolute hit Molotok theme for tools and instruments store.

Extra Offers with Every PrestaShop Theme
Also, view the selection of extra services you are offered with every PrestaShop theme:
InMotionHosting – get 1 year of InMotion hosting with unlimited bandwidth and disk space and other benefits.
Prime SEO Pack – Template Tuning team will help you increase your website traffic and sales via social networks.
SEO Boost – a service by AdBoomer that ensures your website gets submitted to a number of high-trust websites and social media.
Ready To Go Store Quick Start – our eStore Team will install and customize your online store, setting up payment modules, currencies, shipping, taxes options etc.
Installation – our Service Center will perform complete installation of your new online store within 24 hours upon receiving the access details to your hosting server.
Primary Site Maintenance – our Template Tuning team offers you comprehensive 6-month website maintenance with a vast range of services. The service includes website security check ups, real-time cloud backups, technical support and more.
Speed Booster – our Template Tuning team will optimize and speed up your website to boost conversion rate and help you get good search engine ranking.
Adding your logo – our Service Center will embed a client's logo into the template within 24 hours after getting the hosting server access details.

PrestaShop Modules
PrestaShop platform has plenty of modules meant to expand its initial functionality. These highly versatile extensions are used to customize the web pages of an online store. Basically, PrestaShop modules are programs using PrestaShop's functionality meaning to make the eCommerce engine easier in use or more customizable.
Have a look at the popular PrestaShop modules you can apply in your online store:
TM Mega Layout module allows you to customize the layout for 3 sections (hooks) on the main page of the website and create layouts of your own.
TM Category Products module is meant for displaying single products, products from a category or all products.
TM Mega Menu module allows creating complex menus. It also gives you the ability to display one item (without sub-menu), a menu item with a sub-menu and a menu item with sub-menu by means of a multi-row and multi-column block.
TM Advanced Filter module allows doing a quick product search based on its features. Also, it allows creating filters with the unlimited number of search criteria, available in the store by default or are created, when adding the products.
TM HTML Content module allows embedding HTML content (image, HTML, links, etc.) It is used to expand design opportunities and add advertisement/information blocks to your store.
TM Lookbook module will help you create lookbooks and put them together to make collections. Lookbooks will let you see the products in real life or directly on a model.
TM Related Products module will display similar or related products to those your clients were looking for on the page.
TM Social Feeds module incorporates social networks feeds into your website, so that the site visitors would see your latest social news and posts.

More than 1,500,000 customers served
Read what people say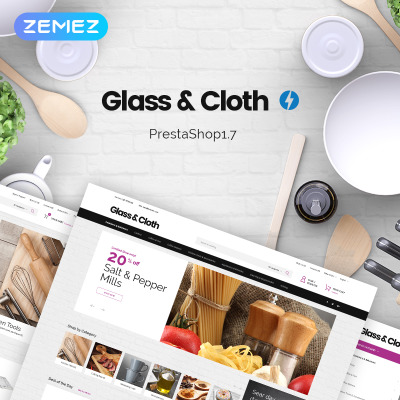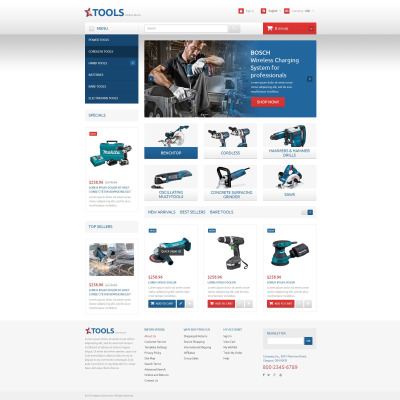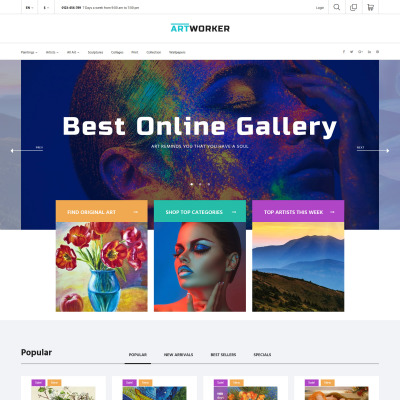 Design
Stick-to-Top Menu
The theme is supplied with a menu that sticks to the top of the page as you scroll down. This keeps main navigation menu right before the users' eyes all the time, so they don't need to go back all the way to get to another page.
Parallax Scrolling
Applying parallax scrolling can really help engage your visitors. People will automatically feel more interested when scrolling, because this effect alters the depth and content of their view. It's a psychological trick that will surely pull your visitor deeper into the website and will ignite their desire to explore.
Background Video
Stunning video in the background makes people stop and stare. It's a perfect opportunity to show off your best products in some interactive way.
Color Schemes
The template comes with several color schemes to choose from, i.e. the range of colors to set a mood, attract the attention or make a statement on your site.
Custom Block
Custom block is an area where you can insert information of different kinds, from contacts to sale terms and payment details. Each time a new product is added, this data automatically remains in place.
Blog
The company blog roll can be displayed on the main page of the site. This would not only help keep the audience engaged but would also provide higher SEO rankings and seamless visitor experience.
Megafooter
Mega footers can be so much more than an afterthought containing fine print of a website. With the right design they reinforce brand awareness and drive user actions by providing site-wide access to useful secondary information.
Tabs
You can have as many tabs as you need and easily edit the content. This feature makes the site more informative as the visitors get all necessary information about the product at once.
Social & Google Map
Facebook Widget
Facebook widget helps your provide the simplest and most attractive way to display your Facebook feed posts or likes in the sidebar. Being very easy to configure, you just need add URL of your facebook page.
Google Map
Placing the Google map into your site's page gives a clue to your visitors about your business' location. Such approach helps user to know about your business location and your working hours. This deprives the necessary to search this info on some other pages.
Product Presentation
Quick View
Neat 'Quick view' button appears when hovering product image. Clicking it, there opens a pop-up with product preview where buyer can immediately get detailed information about the listing (including description, video, photo, rating, buttons and whatnot).
Product Thumbs Carousel
Product thumbnails at the bottom of an image slider are rather helpful, especially when there are, say, 10 or even more photos of one single product. Insert their thumbnails and the user will be able to look through just clicking the arrows.
Product Image Pop-Up
With this extension your customers won't have to go to the product page every time they want to see a larger item image. All they need to do is to click the product photo and it will appear at the popup window.
Badges
Use badges on your eCommerce website to indicate the status and value of products. Being small yet attention-grabbing in their nature, these UI elements provide more effective promotion of e-store merchandise.
YouTube Video
Share YouTube videos on the homepage of your online store to provide richer multimedia experience for its visitors.
Cloud Zoom
With this smooth, touch-enabled jQuery image zoom plugin, visitors will be able to enlarge products and view them to minor details.
Upselling Cross Selling Etc.
Wishlist Page
The Wishlist allows your customers to define products they wish to purchase or have someone purchase for them later. Having your customers able to save products to a Wishlist greatly increases the likelihood that they will remember the products they liked.
Customers Also Viewed
Show your e-store visitors items that other people have viewed. As most shoppers are influenced by choices of others, this intelligent option will help you stimulate them for a purchase more efficiently.
Accessories
As a business owner, you want your customers to acquire related products or accessories of the items they've chosen. By offering similar or complementary products you will not only improve the browsing experience, but also increase overall sales.
Favorite
Facilitate repeat orders by letting people organize their favorite products into unique categories and watch customers return to your store over and over again.
Suppliers
Let your visitors decide which suppliers to choose by scanning through the full list of manufacturers, wholesalers or distributors of existing brands and products.
Product Pack
Improve your e-Commerce performance by offering your visitors to save on buying two or more individual products as a pack, based on certain requirements (for instance, discounted items).
Product Sort
This feature lets your users to sort out the products they need, much faster. They only have to type the brand of a product or a keyword in the search field and the system will show the results.
Ajax Product Filter
The inbuilt Ajax filter reduces the wait time of your users, it helps sort out products in a few seconds.
Newsletter Widget
This block offers your visitors to subscribe to your newsletters and stay informed of any changes made on the website.