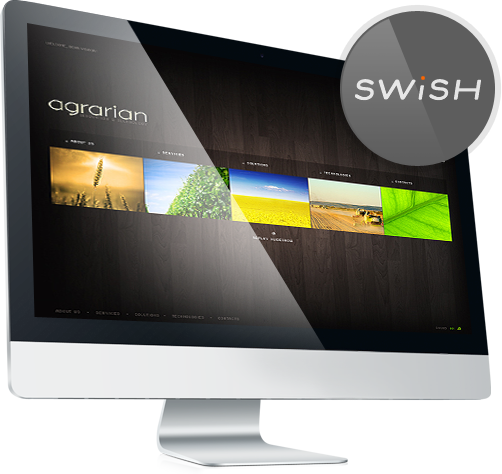 SWiSH Templates
You create immersive onsite experiences
100% Satisfaction Guarantee
24/7 Free Support
Stock PhotosIncluded
Recently Added SWiSH Templates
Features
See what improves the front- and back-end performance
Same Rendering across All Browsers
The built-in Flash player makes your website look equally attractive in all modern web browsers.
Simple Customization
You can replace the logo or images simply by changing them in a source folder. All texts are easily edited in a text document, you don't even need to enter SWiSH editor for that.
Immense Sounds
Only professional musicians work on audio side of every single SWiSH template. That's why you can be sure that your website will have amazing sound effects.
Video & Musical Content Playing
Your website powered by SWiSH template will excellently play any video or musical content with the help of Flash player built into the browser.
Website Looks Bright & Vivid
SWiSH is perfect for animation. It works equally well with vector, raster, or 3D graphics, as well as video and audio files. As a result you get an amazing website with affecting experience for users.
SWISH Templates
SwishMax Templates are pre-made web designs – usual website templates developed in SWiSH – that can be easily changed to meet the unique requirements of your project. Each SWiSH Template is a fascinating multimedia combination of live action with a pleasant sound accompaniment for your website.
Swish Max Templates provided by Template Monster are perfect if you require a sensational website that will hold your visitors attention and make a vivid impression on them. Moreover, our SWISH Templates are professionally designed and incredibly easy to customize.
Check out our collection and purchase a SWISH Template which suits your business and tastes. Keep in mind that our database is updated with new SWISH Templates 2-3 times a week in order to provide you with the great choice. Therefore if you have not chosen a template this time do not forget to get back to Template Monster and find a desired template.
The purpose of a Free SWiSH Animated Templates (SWiSH Animated) is to acquaint the clients with this type of product. Feel free to download the sample and have a test drive.
More than 1,500,000 customers served
Read what people say
SWISH Templates from Template Monster
A SWiSH Template is usually a 2-page web template that comes with a SWISH animated header. A Swish Template makes an attractive multimedia presentation from a combination of live action and an interesting sound accompaniment. After a purchase you will be provided with an .SWI file to make any necessary changes to SWiSH Templates. Along with the .SWI file you also get the .SWF, the .PSD and the .HTML files to make it extremely easy for you to work with our SWiSH Templates. Enjoy your work!
What is SWiSH?
SWISH Templates presented here were developed in SWISH. It is related to Adobe Flash technology and was designed to create cross-platform compatible presentations. Swish was developed and distributed by www.SWISHzone.com Pty Ltd, based in Sydney, Australia. SWiSH technology duplicates many of the effects available in the Adobe Flash software. These effects come built into SWiSH Max and as a result many people find it easier and faster to use than the Flash software. SWiSH Max is also considerably less expensive than Macromedia's software. Template Monster is proud to offer you a product line based on the SWISH software – SWISH Templates.